LTE Made Simple (German Version)
WBT Beschreibung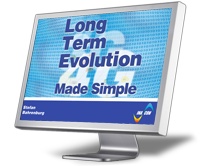 Das Web Based Training ist für alle, die die Technologie und die Konzepte von LTE, sowie die künftigen 4G-Standards von 3GPP verstehen müssen.
Nach der allgemeinen Einführung in den 4G-Standard, beginnt das Web Based Training mit einer Einführung der Voraussetzungen von LTE.
Der folgende Teil stellt die wichtigen Merkmale der Layer 1 Schlüssel-Technologie dar: OFDM und MIMO.
Das Web Based Training geht mit einer Beschreibung des LTE-L1 weiter. Unter anderem betrachten wir im Einzelnen die Anwendung von grundlegenden Technologien wie OFDMA für den Downlink und SC-FDMA für den Uplink in LTE sowie die LTE-Frame-Struktur.
Dieser Teil endet mit der Erörterung der Physical Layer Prozeduren.
Das nächste Kapitel beschreibt im Detail die oberen Protokoll-Ebenen von E-UTRAN.
Dieses Kapitel präsentiert die Initial Context Setup-Prozedur von LTE und beschreibt den Datenfluss eines TCP / IP-Pakets durch die Protokollschichten.
Einige Ihrer Fragen, die beantwortet werden
Was ist LTE und warum wird es in erster Linie eingeführt ?
Was sind die Anforderungen an LTE und wie unterscheiden sie sich von denen von UMTS?
Was sind die wichtigsten Merkmale von LTE's (E-UTRAN's) Layer 1 und Layer 2 / 3?
Wie entwickelt sich das LTE und SAE (System Architecture Evolution) aus dem Mobile Radio Network?
Wie arbeiten die grundlegenden Physical Layer Technologien von LTE wie OFDM und MIMO?
Wie ermöglicht die Physical Frame Struktur die Verwendung einer flexiblen Bandbreiten-Zuweisung?
Wie arbeiten die Physical Layer Prozeduren in LTE?
Wie kann der Durchsatz der UE Kategorien berechnet werden?
Was sind die Aufgaben der höheren Protokoll-Ebenen und die Funktionen der eNode B: MAC, RLC, PDCP und RRC?
Wie bewegen sich die TCP-Pakete im einzelnen durch die Protokollschichten?
WBT Dauer
Detaillierter Inhalt
Part 1: Principles and Motivation of LTE
Overview and Outlook of the technical Evolution
Performance and Mobility Management related Issues
Architecture related Issues
Procedure and Radio related Issues
Quiz 1: Mobile Radio Comparison
Requirements on LTE
AIPN - What does it mean?
LTE and System Architecture Evolution (SAE)
The Control Plane Protocol Stack
The User Plane Protocol Stack
X2 Interface Control Plane Protocol Stack
X2 Interface User Plane Protocol Stack
Channel Types
Quiz 2: E-UTRAN Protocol Stack and Channel Overview
Part 2: Key Technologies of the LTE Physical Layer
Introduction of OFDM Technology
OFDM Principle and Example
OFDM versus OFDMA
OFDM versus OFDMA continued
LTE Modulation schemes
OFDM Issues and Solutions
... and the solution in OFDM: Cyclic Prefix
Quiz 3: OFDM and Modulation
The Basic Problems: Signal Fading Physics between TX and RX
Possible Solutions: Smart Antenna Technologies
MIMO Principle Operation
Quiz 4: MIMO Principles
Part 3: The Physical Layer of E-UTRAN
Logical Channels in E-UTRAN
Transport Channels in E-UTRAN
Physical Channels in E-UTRAN
Uplink Direction - UE to eNB
Downlink Direction - eNB to UE
Quiz 5: LTE Physical Channel Details
LTE Frame Structure (FDD)
Resource Block and Resource Element Definition
Overview of Important Identifiers in LTE
Quiz 6: Frames and Identifiers
Overview of Physical Layer Procedures
Random Access Principle
LTE Random Access Procedure
UE Classes
Quiz 7: Physical Layer Procedures and UE Classes
Part 4: The Higher Layers of E-UTRAN
Features of the MAC Layer
Features of the RLC Layer
Features of the PDCP Layer
Features of the RRC Layer
RRC State Characteristics
NAS Protocol States and Transitions
Quiz 8: Higher Layer Protocols
LTE and SAE Bearer Architecture and Relationships
The QoS-Profile of the LTE / SAE-Bearer
QoS Classes Identifier
Security in LTE
Quiz 9: QoS and Security
The Initial Context Setup Procedure
The Initial Context Setup Procedure (continued)
The Initial Context Setup Procedure (continued)
How a TCP/IP MTU reaches the UE / the Internet
Quiz 10: Initial Attachment
Demo Version

Bestellung
Product Details:
48 Slides
10 Quizzes
Lizenz bis : 30 Nov 2024

Preis: 169.- €
// $product = 139; // @include_once("../shop/lib/scripts/php/shop/basket_add.php"); ?>
v1.000

Search:
Advanced Search
---
Demo Version

---
Are You Curious?
If you interested in our Web Based Trainings, please contact us. We would be pleased to inform you.

---
Our Web Based Trainings
We are proud to introduce the first INACON Web Based Trainings:
---
Our Advantages
Technology in 3 Hours
Expert Trainers
Audio + Video ...
Advanced Didactics
CBT vs. WBT
---