Web Based Training Catalog
Pricing
@include_once("../shop/lib/scripts/php/wbt/wbt_product_list.php"); ?>
LTE Made Simple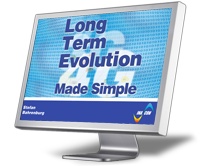 This Web Based Training addresses the needs of everybody who needs to understand the technology and concepts of LTE as the future 4G standard of 3GPP.
After the general introduction to 4G standards is given, the Web Based Training starts with an introduction of the requirements of LTE.
The following part presents important characteristics of the key layer 1 technologies: OFDM and MIMO. The Web Based Training continues with a description of the LTE L1. Among others we evaluate in detail the application of essential technologies like OFDMA for the downlink and SC-FDMA for the uplink in LTE as well as the LTE frame structure. This part concludes with the discussion of the physical layer procedures.
The final chapter evaluates in detail the higher layer protocols of E-UTRAN.
This chapter is presenting the initial context setup procedure of LTE and is describing the data flow of a TCP/IP packet trough the protocol layers.

---
LTE Made Simple (German Version)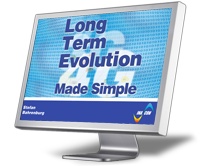 Das Web Based Training ist für alle, die die Technologie und die Konzepte von LTE, sowie die künftigen 4G-Standards von 3GPP verstehen müssen.
Nach der allgemeinen Einführung in den 4G-Standard, beginnt das Web Based Training mit einer Einführung der Voraussetzungen von LTE. Der folgende Teil stellt die wichtigen Merkmale der Layer 1 Schlüssel-Technologie dar: OFDM und MIMO.
Das Web Based Training geht mit einer Beschreibung des LTE-L1 weiter. Unter anderem betrachten wir im Einzelnen die Anwendung von grundlegenden Technologien wie OFDMA für den Downlink und SC-FDMA für den Uplink in LTE sowie die LTE-Frame-Struktur. Dieser Teil endet mit der Erörterung der Physical Layer Prozeduren.
Das nächste Kapitel beschreibt im Detail die oberen Protokoll-Ebenen von E-UTRAN. Dieses präsentiert die Initial Context Setup-Prozedur von LTE und beschreibt den Datenfluss eines TCP / IP-Pakets durch die Protokollschichten.

---
GPRS & EGPRS Made Simple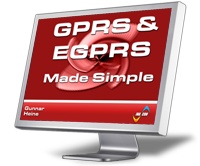 This Web Based Training provides a fast track to the essential aspects of both, GPRS and EGPRS.
It starts with a description of the principles of packet-switched operation compared to circuit-switched operation. We consider this part very important especially for beginners.
The next part is dedicated to the description of the new network architecture with GPRS, pointing out the tasks and functions of PCU, SGSN, GGSN and BG and concludes with the provision of the presentation of the performance figures of GPRS and EGPRS in terms of bandwidth and latency. Focus on the following chapter that discusses the air interface related aspects of GPRS and EGPRS. This relates particularly to multislot operation and the modulation and coding schemes CS-1 – CS-4 and MCS-1 – MCS-9 that are used in GPRS and EGPRS.
The final chapter is dedicated to operational aspects of GPRS and EGPRS. This part explains how users get their IP-addresses from the network and how data is actually transmitted over the air interface in uplink and downlink direction.

---
HSPA+ Made Simple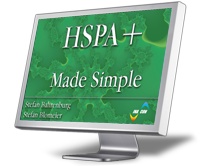 This Web Based Training addresses the needs of engineers who need to get familiar with advanced developments in the field of HSPA+/eHSPA.
In the beginning of the Web Based Training HSDPA and HSUPA are compared to HSPA+.
The Web Based Training continues with the elaboration of background and implementation of important release 7 key technologies like MIMO, higher order modulation schemes (4-PAM, 16-QAM, and 64-QAM), Continuous Packet Connectivity (CPC), layer 2 improvements, and RRC state operation enhancements.

---
HSPA Made Simple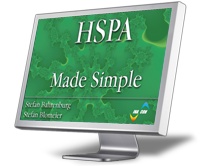 This Web Based Training provides an in-depth analysis of the lately very popular high speed technology revolution of UMTS: High Speed Downlink & Uplink Packet Access - HSPA.
The Web Based Training starts with the discussion of the targets and characteristics of HSDPA. Here the main features will be discussed.
Once the basic concepts of HSDPA are explained the operation of HSDPA is discussed: The setup, transmission and retransmission, and finally the serving cell change.

---
Search:
Advanced Search
---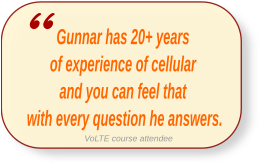 Our Web Based Trainings
We are proud to introduce the first INACON Web Based Trainings:
---
Are You Curious?
If you interested in our Web Based Trainings, please contact us. We would be pleased to inform you.

---