HSPA+ Made Simple
WBT Description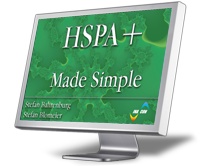 This Web Based Training addresses the needs of engineers who need to get familiar with advanced developments in the field of HSPA+/eHSPA.
In the beginning of the Web Based Training HSDPA and HSUPA are compared to HSPA+.
The Web Based Training continues with the elaboration of background and implementation of important release 7 key technologies like MIMO, higher order modulation schemes (4-PAM, 16-QAM, and 64-QAM), Continuous Packet Connectivity (CPC), layer 2 improvements, and RRC state operation enhancements.
The next part looks into release 8 HSPA+ and works on features like 64-QAM together with MIMO and DL IC.
The final chapter is dedicated to selected important scenarios of HSPA+ RRC state operation enhancements.
Some of your questions that will be answered
What are the differences in-between HSPA and HSPA+?
How do higher level modulation schemes impact the mobile radio network's performance?
What is MIMO and what makes it that important for tomorrow's mobile radio standards?
How MIMO is introduced in HSPA+ and what needs to be changed in terms of signaling and protocols?
What is Continuous Packet Connectivity and what needs to be done in order to efficiently implement it in HSPA+?
How does the new generation of L1 signaling look like in HSPA+?
How do MAC, RLC, and RCC protocols change for HSPA+?
When and how MIMO can be combined with 64-QAM?
How can DL interference cancellation be implemented in the UE?
What other advanced receiver technologies are standardized for HSPA?
WBT Duration
Detailed ToC
Part 1: Introduction to HSPA+
HSPA+ in the HSPA Roadmap
Feature Review of HSDPA
Feature Review of HSUPA
HSDPA+ UE Categories
Optional and Mandatory Features in Rel. 7
HSPA+ Protocol Stack
Part 2: HSPA+ in Release 7
Higher Order Modulation Schemes
MIMO
Continuous Packet Connectivity (CPC)
Upgraded L1 Signaling
MAC-ehs Entity
Flexible RLC PDU Sizes
RRC State Operation Enhancements
Part 3: HSPA+ enhancements in Release 8
Overview of HSPA+ Related Work Items in R8
MIMO combined with 64-QAM
Dual Branch Interference Cancellation
Part 4: RRC State Operation Enhancements Scenarios
Operation in the CELL_FACH state
Operation in the CELL_FACH state – Cell Update
RRC Idle to transient CELL_FACH
Operation in the URA_PCH or CELL_PCH state
Demo Version

v1.000

Search:
Advanced Search
---
Demo Version

---
Are You Curious?
If you interested in our Web Based Trainings, please contact us. We would be pleased to inform you.

---
Our Web Based Trainings
We are proud to introduce the first INACON Web Based Trainings:
---
Our Advantages
Technology in 3 Hours
Expert Trainers
Audio + Video ...
Advanced Didactics
CBT vs. WBT
---