Inside UMTS -
Technology & System Operation
[2-day course, Euro 2,350.- (net) per participant]
Training Course Description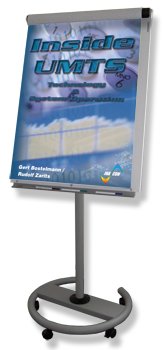 This training course addresses the needs of engineers and technicians who are already experienced in mobile systems and will move to new tasks.
This training course provides the technical platform for system developers but also for operation services, network planners and technical management.
As in all INACON training courses we integrated several interactive exercises for a perfect learning experience.
Please click here for a detailed Table of Contents (ToC)
Some of your questions that will be answered
How can a GSM system be upgraded to a 3G network?
What are the differences between the GSM/GPRS air interface and UTRA?
How do CDMA and WCDMA work ? What are the differences?
How does the UMTS Terrestrial Radio Access or UTRA operate?
To what degree does UMTS facilitate Multimedia Services?
Which new security features are introduced with UMTS?
Which role takes Quality of Service (QoS) in UMTS?
Who should attend this class?
Network Operators who need to understand the 3G technology.
Network Planners who need to understand the implications of WCDMA and UTRA.
Everybody who needs a thorough understanding of the UMTS concepts without digging through the bits.
Pre-Requisites
Detailed understanding of GSM and GPRS networks and overall mobile systems operation. If required, we advise our training courses "GSM from A-Z" and "GPRS from A to Z".
Training Course Target
The student will be enabled to understand the advantages of the next generation of mobile systems and recognize the major technical differences between UMTS and GSM/GPRS
The student will gain a basic comprehension of the new access technology CDMA and its operational behaviour in the UMTS Terrestrial Access Network (UTRAN).
Training Course Duration
v2.4

Search:
Advanced Search
---
More Info:
Detailed ToC of this training course
Schedule of this training course
Extract of this training course
Buy this book
---
INACON eBooks
Please have a look at our full offer

---