Bookstore
Inside UMTS - Technology & System Operation
Some of your questions that will be answered by this book: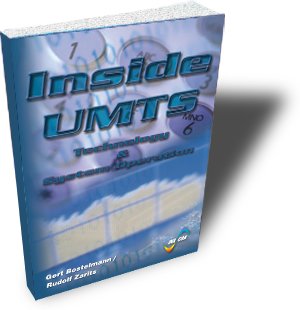 How can a GSM system be upgraded to a 3G network?
What are the differences between the GSM/GPRS air interface and UTRA?
How do CDMA and WCDMA work ? What are the differences?
How does the UMTS Terrestrial Radio Access or UTRA operate?
To what degree does UMTS facilitate Multimedia Services?
Which new security features are introduced with UMTS?
Which role takes Quality of Service (QoS) in UMTS?
Who should acquire this book?
Network Operators who need to understand the 3G technology.
Network Planners who need to understand the implications of WCDMA and UTRA.
Everybody who needs a thorough understanding of the UMTS concepts without digging through the bits.
Product Details:
Paperback / eBook
374 Pages
over 170 Illustrations and Tables
ISBN 978-3-936273-02-1

Price Paperback: Euro 299.- (net)

Price eBook: Euro 249.- (net)


Download the order form and fax or e-mail it to us (inacon@inacon.de)


$product = 27; // include_once("../shop/lib/scripts/php/shop/basket_add.php"); ?>
Search:
Advanced Search
---
More Info:
General Infomation to this Book
Detailed ToC of this Book
Download an Extract of this Book

---
INACON eBooks
Please have a look at our full offer

---