Bookstore
GPRS / UMTS Rel.5 - Signaling & Protocol Analysis (The Core Network)
Some of your questions that will be answered by this book: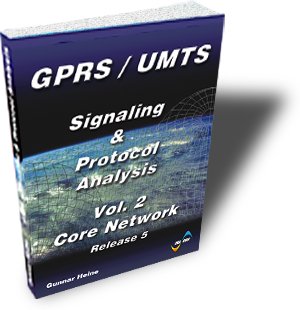 How can I evaluate GPRS trace files on the various new interfaces (Gb, Gn, Gp, Gi)?
How does the GPRS Tunneling Protocol (GTP) work?
What is the differences between GTP and GTP' ?
How are CDR's processed in GPRS networks? Which CDR's need to be considered?
What different means are there to provide IP-addresses to authorized GPRS subscribers?
Which statistical information can be retrieved by means of protocol testers to determine our network performance?
In case of errors: How can I identify DNS/RADIUS/… server problems from problems within our GPRS network?
How do WAP and SMS work with GPRS?
Who should acquire this book?
Everybody who needs to optimize GPRS networks.
Design Engineers of GPRS network equipment.
Every engineer who is involved in the testing and operation of GPRS core networks.
Field engineers who have to analyze GPRS recording files.
All engineers who need to interpret GPRS recording files in the lab.
Product Details:
Paperback
590 Pages
over 250 Illustrations and Tables
ISBN 978-3-936273-18-2

Price Paperback: Euro 399.- (net)

Price eBook: Euro 299.- (net)


Download the order form and fax or e-mail it to us (inacon@inacon.de)


$product = 12; // include_once("../shop/lib/scripts/php/shop/basket_add.php"); ?>
Search:
Advanced Search
---
More Info:
General Infomation to this Book
Detailed ToC of this Book
Download an Extract of this Book

---
INACON eBooks
Please have a look at our full offer

---