From LTE to LTE-Advanced
[1-day course, Euro 1,500.- (net) per participant]
Training Course Description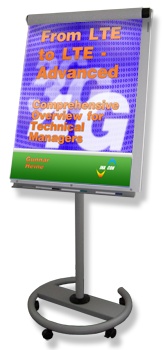 This course addresses the needs of technical managers, engineers and technicians who are involved in the design, consideration and development of LTE and other 3GPP cellular standards and in particular the evolution from LTE to LTE Advanced. The course focuses on both sides, UE/Mobile as well as network.
The course starts with a roadmap overview of the 3GPP standardization from 2G technologies (GSM) up to 4G technologies (LTE-Advanced).
An overview of the network architecture with the introduction of LTE and LTE-Advanced will be provided mapping it to the content of the standards of 3GPP releases 8, 9, 10 and beyond as well as an indication of the current implementation status in Europe and North America.
We will then review the core technologies of LTE, such as OFDMA, SC-FDMA, Antenna technologies and the channel structures and resource allocations on the shared channels.
We will then review different interworking options, such as I-WLAN, WISPr, tunneling through GAN / UMAN / VoLGA or as non-trusted, non 3GPP access network connecting to LTE infrastructure with DSMIP or PMIP as well as reviewing voice call setups with and without IMS support.
We will discuss in detail the changes and enhancements that will be introduced with LTE-Advanced, such as the increase in throughput, Spectral Efficiency, the relationship with LTE, Carrier Aggregation, Coordinated Multipoint Transmission and the use of Relay Nodes.
The course will conclude with other enhancements introduced with LTE Advanced as well as possibly still lacking Enhancements.
As in all our training courses, we integrated several interactive exercises for a perfect learning experience.
Some of your questions that will be answered
What are the technologies behind the various specification evolutions from 2G to 4G and what is the current status of LTE implementations?
How does a voice call setup work with LTE , what are the options and what are the benefits of using VoLGA or IMS?
How is authentication of the terminal being done in case of a roaming through WiFi or any other access technology instead of a LTE access?
What are the main improvements with LTE-Advanced to achieve the target throughput rates and efficiency?
How does Intra- and Inter-Band Carrier Aggregation work to obtain the required system bandwidth?
What is Coordinated Multipoint Transmission and how does it work?
Who should attend this class?
The course is particular useful to technical managers and other staff who need to develop a clear understanding of the evolution and impact of the migration from LTE towards LTE-Advanced.
Pre-Requisites
The student should possess good knowledge in wireless and/or cellular communication technology before coming to the course.
We would recommend our webinars or web based training courses on LTE to be taken as course preparation.
Training Course Target
The student is enabled to understand the LTE technologies and the evolution towards LTE advanced with 3GPP release 10 ff.
Training Course Duration
v1.000

Search:
Advanced Search
---
More Info:
Detailed ToC of this training course
Schedule of this training course

---
INACON eBooks
Please have a look at our full offer

---