Bookstore
LTE from A-Z - Reloaded
Some of your questions that will be answered by this book: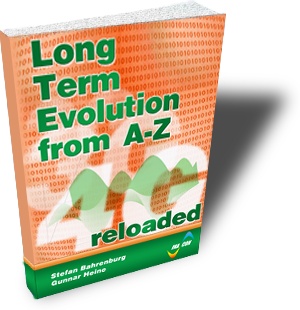 What is LTE and why it is introduced in the first place?
What are the requirements for LTE and how do they differentiate from those of UMTS?
What are the key characteristics of LTE's (E-UTRAN's) layer 1 and layer 2/3?
How does the LTE and SAE (System Architecture Evolution) evolved mobile radio network look like?
What key development trends are manifested in LTE?
How do the basic physical layer technologies of LTE like OFDM, MIMO, HARQ, and AMC work?
How the physical frame structure is facilitating the use of a flexible bandwidth allocation?
How do the digital signal processing chains of uplink and downlink look like and what is their difference with respect to conventional mobile radio systems?
How the physical layer procedures work in LTE?
What are the tasks of the higher layer protocol entities and functions of the enhanced node B: MAC, RLC, PDCP, RRC, and RRM?
What are the used concepts for mobility in LTE?
How does LTE manage the most relevant scenarios like RRC connection establishment attachment, PDP context establishment and hand over?
How in detail the TCP packets travel from the SAE GW to the UE?
Who should acquire this book?
The student needs to have previous exposure to L1 design and concepts of standards like UMTS, HSDPA, HSUPA and WiMAX (IEEE 802.16)
The student needs to have a good background of mobile radio protocols, operation, and parameters. UMTS L2 and L3 experience would be favorable.
Previous knowledge of UMTS-details from our training courses "HSPDA Design Details & System Engineering" and "HSPUA Design Details & System Engineering" would be necessary to understand the benefits of E-UTRAN compared to UTRAN.
In addition, we advise our course "UMTS – Signaling & Protocol Analysis (UTRAN & UE)" to be taken in advance.
Previous design and/or testing experience with WCDMA-networks and/or User Equipment is favorable.
Product Details:
Paperback / eBook
408 Pages
over 160 Illustrations and Tables
ISBN 978-3-936273-64-9

Price Paperback: Euro 399.- (net)

Price eBook: Euro 299.- (net)


Download the order form and fax or e-mail it to us (inacon@inacon.de)


$product = 31; // include_once("../shop/lib/scripts/php/shop/basket_add.php"); ?>
Search:
Advanced Search
---
More Info:
General Infomation to this Book
Detailed ToC of this Book
Also available as eBook
---
INACON eBooks
Please have a look at our full offer

---