GPRS - Troubleshooting with Wireshark
[2-day course, Euro 2,350.- (net) per participant]
Training Course Description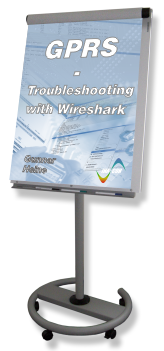 This practical course enables the participants to find throughput issues and shows how to solve them by using Wireshark on the client and/or on the network side.
Some of your questions that will be answered
How can a technician find out if the UE, NodeB, RNC, Core or the Internet are responsible for low throughput? Many times this requires TCP-tracing on the client, Gb/Iu-ps and on Gn/Gi-interface.
What performance indicators can be seen in a TCP throughput graph?
Why can't the End-to-End RTT not go below a minimum value but increases when the TCP-Window Size increases? A too high Window Size fixes delay issues caused by the network but slows down the TCP-retransmissions and demands higher buffers in core and radio access network.
Why TCP Selective ACK's are counterproductive for TCP-Data frames but would be good for TCP-ACK <=> out of sequence delivery of TCP-ACK's would be beneficial for the throughput if supported?
Why Core Network can throttle the throughput down due to out-of-sequence delivery?
Who should attend this class?
The course is mainly targeted for Operators and UE-vendors which need to identify network problems leading to bad throughput and drops.
Pre-Requisites
Participants should be already familiar with GPRS, UMTS and HSPA. This should stem from previous exposure to design, troubleshooting or operations jobs in GPRS/UMTS/HSPA telecommunication networks.
Training Course Target
After the course the participant is able to use Wireshark efficiently for drop and throughput analysis. We teach the students how to set filters, add more columns for better fault analysis and how to export logs for further post-processing e.g. in Excel.
Training Course Duration
v1.000

Search:
Advanced Search
---
More Info:
Detailed ToC of this training course
Buy this book

---
INACON eBooks
Please have a look at our full offer

---