Bookstore
GPRS - Troubleshooting with Wireshark
Some of your questions that will be answered by this book: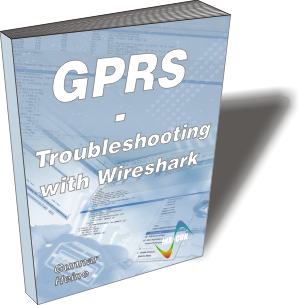 How can a technician find out if the UE, NodeB, RNC, Core or the Internet are responsible for low throughput? Many times this requires TCP-tracing on the client, Gb/Iu-ps and on Gn/Gi-interface.
What performance indicators can be seen in a TCP throughput graph?
Why can't the End-to-End RTT not go below a minimum value but increases when the TCP-Window Size increases? A too high Window Size fixes delay issues caused by the network but slows down the TCP-retransmissions and demands higher buffers in core and radio access network.
Why TCP Selective ACK's are counterproductive for TCP-Data frames but would be good for TCP-ACK <=> out of sequence delivery of TCP-ACK's would be beneficial for the throughput if supported?
Why Core Network can throttle the throughput down due to out-of-sequence delivery?
Who should acquire this book?
The book is mainly targeted for Operators and UE-vendors which need to identify network problems leading to bad throughput and drops.
Product Details:
Paperback
366 Pages
over 160 Illustrations and Tables
ISBN 978-3-936273-77-9

Price Paperback: Euro 399.- (net)

Price eBook: Euro 299.- (net)


Download the order form and fax or e-mail it to us (inacon@inacon.de)


$product = 3; // include_once("../shop/lib/scripts/php/shop/basket_add.php"); ?>
Search:
Advanced Search
---
More Info:
General Infomation to this Book
Detailed ToC of this Book

---
INACON eBooks
Please have a look at our full offer

---