GPRS - Network Optimization &
Trouble Shooting
[3-day training course, Euro 3,450.- per participant]
Training Course Description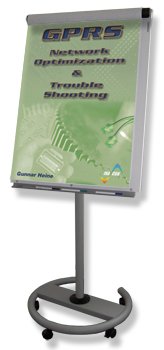 This training course is targeted at engineers and technicians who are involved in the operation, optimization and troubleshooting of GPRS-networks.
The training course starts with a comprehensive and detailed examination of the capabilities of GPRS and the maximum performance that can be achieved, considering the various restrictions and interdependencies of the different components involved, like application protocols, the network architecture, the mobile station and the host software.
The training course lines out the different means and options of how to determine the performance and quality of a GPRS network and how to make these results reproducible.
Most interesting is the detailed presentation of how to fine-tune the different components of a GPRS-network to achieve the optimum performance.
The training course concludes with the detailed analysis of typical errors and failures in GPRS networks, discriminating mobile station issues from network problems.
As in all INACON training courses we integrated several interactive exercises for a perfect learning experience.
Please click here for a detailed Table of Contents (ToC)
Some of your questions that will be answered
How can engineers in the core network and in the radio network determine the actual network performance?
What are the performance requirements of the different TCP-applications?
How can I distinguish application and mobile station failures which are outside of our scope from real network problems?
How to nail down performance bottlenecks in the different parts of your network?
How to optimize the performance for the different applications?
Who should attend this class?
Network operators who need to optimize the performance of their networks
System supplier staff who is involved in the troubleshooting and optimization of GPRS-networks
Design engineers of mobile stations and PDA's for GPRS
Pre-Requisites
Very good understanding of GPRS networks, protocols, operation and parameters. Previous knowledge of all GPRS-details from our training training course "GPRS from A-Z" is required.
Good understanding of the IP-world is necessary as this training course lines out in detail the interdependency of achieving the best achievable performance of TCP/IP applications over the GPRS-bearer.
To cope with these requirements, we strongly recommend to take our training course
"GPRS - Signaling & Protocol Analysis" (
RAN & Mobile Station
) + (
Core Network
) beforehand.
Training Course Target
The student is enabled to troubleshoot and optimize GPRS networks and mobile stations.
Training Course Duration
v1.4

Search:
Advanced Search
---
More Info:
Detailed ToC of this training course
Schedule of this training course
Extract of this training course
Buy this book
---
INACON eBooks
Please have a look at our full offer

---