GPRS - Signaling & Protocol Analysis
(RAN and Mobile Station)
[3-day training course, Euro 3,450.- per participant]
Training Course Description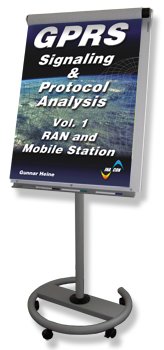 This training course addresses the needs of engineers and technicians who are already experienced in GPRS.
This first part of the training course focuses on the aspects of GPRS as seen from the perspective of the mobile station and within the Radio Access Network (RAN).
The training course has been updated to Release 5.
As in all INACON training courses we integrated several interactive exercises for a perfect learning experience.
Please click
here
for a detailed Table of Contents (
ToC
)
Some of your questions that will be answered
How can I evaluate GPRS trace files on the various new interfaces (Gb, Gn, Gp) and on the Abis-Interface?
What is the meaning of the various new parameters, counters and timers in GPRS protocols like, PAN_DEC, PAN_MAX, N3104, T3192, T3168, Gamma, Alpha, ... ?
What is the meaning of the various new messages that have been defined for GPRS?
How can I decode hexadecimal GPRS mobility and session management messages on the Abis-Interface?
How can I optimize the operation of our GPRS network?
Which statistical information can be retrieved by means of protocol testers to judge our network performance?
In case of errors: How can I distinguish conformance problems of the mobile station from RAN issues?
What meaning, relationship and consequences do parameters like BS_PCC_CHANS, BS_PRACH_BLKS, BS_PBCCH_BLKS, BS_PAG_BLKS_RES have?
Who should attend this class?
Everybody who needs to optimize GPRS networks.
Design Engineers of GPRS network equipment and GPRS mobile stations.
Network Planners who need to build joined GSM / GPRS networks.
Field engineers who have to analyze GPRS recording files.
Test engineers who need to interpret GPRS recording files in the lab.
Pre-Requisites
Very good understanding of GSM networks, protocols, operation and parameters. If required, we advise our training course "GSM – Signaling & Protocol Analysis" to be taken upfront.
Previous knowledge of GPRS is essential. If required, we advise our training course "GPRS from A – Z" to be taken upfront.
Previous experience with GPRS network and / or mobile station operation is optional but favorable.
Training Course Target
The student will be enabled to understand all relevant details of GPRS-procedures within the RAN and the mobile station.
The student is enabled to analyze recording files taken on the Air- and Abis-Interface.
Training Course Duration
v5.1

Search:
Advanced Search
---
More Info:
Detailed ToC of this training course
Schedule of this training course
Extract of this training course
Buy this book
Buy this book as eBook
---
INACON eBooks
Please have a look at our full offer

---