GSM - Signaling & Protocol Analysis
(RAN & Mobile Station)
[2-day course, Euro 2,350.- (net) per participant]
Training Course Description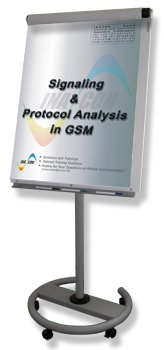 This training course addresses engineers and technicians who need to understand the GSM Protocol stack in detail.
Starting with a precise explanation of the OSI reference model, the training course is later on concentrating on illustrating the functions of the various interfaces in the GSM network.
A chapter "Error Analysis in GSM", focusing on the needs of troubleshooting engineers and technicians, is also included.
As in all INACON training courses we integrated several interactive exercises for a perfect learning experience.
Please click here for a detailed Table of Contents (ToC)
Some of your questions that will be answered
What is the OSI reference model and how does it work?
How does the SCCP message format look like and which SCCP messages exist?
When and why are SCCP connection-less or connection-oriented services used by higher layers?
Which GSM network elements and interfaces exist and how does the GSM protocol stack look like?
Which protocol stack is used on the Abis interface and how does LAPD work?
Who should attend this class?
Operations staff of GSM network equipment
Engineers who have to implement and to upgrade GSM hardware and software
Everybody who requires a detailed understanding of GSM signaling procedures
Pre-Requisites
Good understanding of GSM network architecture
Training Course Target
The student will be enabled to understand all important protocols of the GSM network and the related GSM signaling procedures.
Training Course Duration

Search:
Advanced Search
---
More Info:
Detailed ToC of this training course
Schedule of this training course
Extract of this training course
Buy this book
---
INACON eBooks
Please have a look at our full offer

---