Bookstore
GSM - Signaling & Protocol Analysis (RAN & MS)
Some of your questions that will be answered by this book: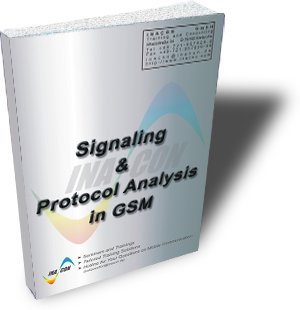 What is the OSI reference model and how does it work?
What is the GSM network architecture? What is the function and specifics of the various network elements?
How does the SCCP message format look like and which SCCP messages exist?
When and why are SCCP connection-less or connection-oriented services used by higher layers?
Which GSM network elements and interfaces exist and how does the GSM protocol stack look like?
What is the difference between logical and physical channels in GSM? What is the function of the different channel types?
Which protocol stack is used on the Abis interface and how does LAPD work?
What are the different message formats and structures at the air interface and at the A-interface and the ABIS-interface?
How does a mobile terminating call work in GSM?
How does a Inter-MSC-Handover work in GSM?
Who should acquire this book?
Design Engineers of GSM network equipment and GSM mobile stations.
Operations staff of GSM network equipment
Engineers who have to implement and to upgrade GSM hardware and software.
Everybody who requires a detailed understanding of GSM signaling procedures.
Product Details:
Paperback
194 Pages
more than 90 Illustrations and Tables
ISBN 978-3-936273-36-6

Price Paperback: Euro 229.- (net)

Price eBook: Euro 199.- (net)


Download the order form and fax or e-mail it to us (inacon@inacon.de)


$product = 52; // include_once("../shop/lib/scripts/php/shop/basket_add.php"); ?>
Search:
Advanced Search
---
More Info:
General Infomation about this Book
Detailed ToC of this Book
Download an Extract of this Book

---
INACON eBooks
Please have a look at our full offer

---