GPRS from A-Z
[2-day course, Euro 2,350.- (net) per participant]
Training Course Description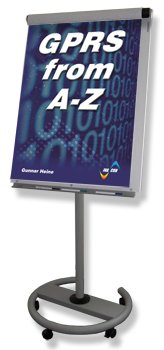 This training course addresses the needs of engineers and technicians who need to build up detailed skills about GPRS. In that respect, the training course "GPRS from A – Z" goes far beyond the introductory level.
Starting with a short description of genuine GSM, this training course provides first an introduction to basic GPRS principles like the service aspects, the network architecture and packet-switched traffic characteristics.
"GPRS from A – Z" explains in detail the operation of the new GPRS radio interface. Then follows an introduction to the GPRS protocol stack and the presentation of the most important GPRS protocol scenarios like GPRS attachment or PDP context activation.
The training course concludes with an overview of High Speed Circuit Switched Data (HSCSD) and EDGE as alternatives for GPRS.
As in all INACON training courses we integrated several interactive exercises for a perfect learning experience.
Please click
here
for a detailed Table of Contents (
ToC
)
Some of your questions that will be answered
How can the circuit-switched GSM be upgraded to provide for packet-switched services?
What is the function of the new GPRS network elements like the PCU, the SGSN, the GGSN or the Border Gateway?
How is the GSM radio interface modified to suit the needs of a packet-switched data transfer service?
Why does GPRS require new channel types and what are their functions ? Why are some of these channel types like the PBCCH or the PCCCH optional?
How does GPRS achieve higher throughput rates per timeslot than GSM?
What is the functions and details of the various new GPRS protocols like RLC/MAC, BSSGP or GTP, to name a few?
What is the flow of signaling and data transmission scenarios in GPRS?
Are HSCSD and EDGE really alternatives to GPRS? How do these technologies work and what are the differences between HSCSD or EDGE on one hand and GPRS on the other hand?
Who should attend this class?
Design Engineers of GPRS network equipment and GPRS mobile stations.
Network Planners who need to build joined GSM / GPRS networks.
Field and test engineers who have to learn GPRS operation and procedures.
Consultants who require a thorough understanding of GPRS
Pre-Requisites
A thorough understanding of the existing GSM networks, protocols, operation and parameters is required. If necessary, we advise our training course "GSM from A-Z" to be taken upfront.
Previous knowledge of GPRS or other packet-switched systems is favourable but not required.
Training Course Target
The student will be enabled to understand all aspects of GPRS operation and procedures.
The training course "GPRS from A–Z" provides a thorough insight view into all details of GPRS.
Training Course Duration
v4.5

Search:
Advanced Search
---
More Info:
Detailed ToC of this training course
Schedule of this training course
Extract of this training course
Buy this book
---
INACON eBooks
Please have a look at our full offer

---