Bookstore
IP for Telecom Professionals Module 3: Advanced Issues
Book Description :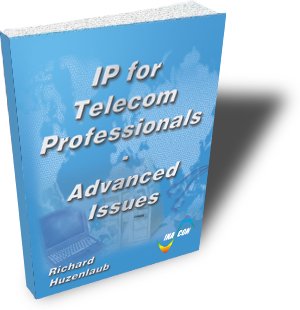 This book is targeted at telecom engineers and technicians who are already familiar with TCP/IP-protocol suite and who require detailed and practical knowledge about advanced IPrelated issues like VoIP, SS7 and QoS in IP-networks and security in IP-networks.
The final part of the book sequence "IP for Telecom Professionals" are called "Advanced Issues". After a short review of the IP-protocol suite the book explains in detail the Interworking between IP and SS7 (<-> SIGTRAN).
In the next parts, the book makes the reader familiar with SIP-based VoIP and how these sessions are setup and released.
One major focus of the book is on QoS and how to provide it in IP-based networks.
The final highlight of this book is on security issues in IP-networks and how to tackle them. It illustrate the different technical possibilities.
Product Details:
Paperback / eBook
335 Pages
over 140 Illustrations and Tables
ISBN 978-3-936273-39-7

Price Paperback: Euro 399.- (net)

Price eBook: Euro 349.- (net)


Download the order form and fax or e-mail it to us (inacon@inacon.de)


$product = 30; // include_once("../shop/lib/scripts/php/shop/basket_add.php"); ?>
Search:
Advanced Search
---
More Info:
General Infomation to this Book
Detailed ToC of this Book
Download an Extract of this Book

---
INACON eBooks
Please have a look at our full offer

---