IP for Telecom Professionals
Module 3: Advanced Issues
[3-day training course, Euro 3,450.- per participant]
Training Course Description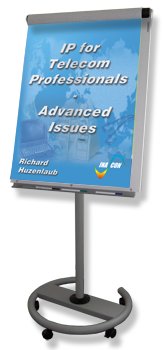 This training course is targeted at telecom engineers and technicians who are already familiar with TCP/IP-protocol suite and who require detailed and practical knowledge about advanced IPrelated issues like VoIP, SS7 and QoS in IP-networks and security in IP-networks.
The final 3 days of the training course sequence "IP for Telecom Professionals" are called "Advanced Issues". After a short review of the IP-protocol suite the training course explains in detail the Interworking between IP and SS7 (<-> SIGTRAN).
In the next parts, the training course makes the students familiar with SIP-based VoIP and how these sessions are setup and released. The hands-on part requires the student to record some SIPsessions and evaluate these recordings. Note that our test network will include the related SIP-servers and clients.
One major focus of the training course is on QoS and how to provide it in IP-based networks. We present the major technical options like DiffServ and IntServ and we included a practical part in which QoS-parameters are configured within our test network by the students.
The final highlight of this training course is on security issues in IP-networks and how to tackle them. We illustrate the different technical possibilities and we included various hands-on exercises and presentations to make the students familiar with this very important IP-issue.
Pre-Requisites
The student should possess detailed knowledge of wireline and/or wireless communications, particularly within the area of operation or engineering.
Very good knowledge of the TCP/IP-protocol suite and its architecture is necessary
Training Course Target
The student will be familiar with the important telecommunication related aspects of the IPprotocol suite.
The student will understand what the difficulties are in providing QoS in an IP-network. This enables the student to setup and operate their own QoS-aware IP-networks.
The student will be familiar with state-of-the-art IP-sniffers and how to use them to analyze network problems.
Last but not least, the student will know the different options how to secure any data transfer in IP-networks. Like for all the other parts, this includes the "playing around" with authentication and encryption setup, configuration and analysis in our test network.
Training Course Duration
v1.6

Search:
Advanced Search
---
More Info:
Detailed ToC of this training course
Schedule of this training course
Extract of this training course
Buy this book
---
INACON eBooks
Please have a look at our full offer

---