IP for Telecom Professionals -
Module 3: Advanced Issues
[3-day course, Euro 3,450.- (net) per participant]
Review of the TCP / IP Protocol Stack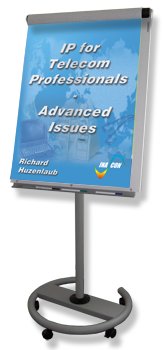 MAC –Layer
(Ethernet, PPP)
Address Resolution
(ARP, RARP, DHCP, DNS, ENUM)
IP Transport and Control
(IP, ICMP, UDP, TCP, SCTP)
IP Routing
(RIP, OSPF, BGP)
Applications
(HTTP, FTP, SMTP, POP3, RTP, H.248, SIP)
PRACTICE:

Introduce and review the architecture of our Test Network
Introduce SIP Server functionality and SIP Client Applications
IP Networks as Transport in Telecommuncation
Signalling Transport (SIGTRAN)
Detailed Overview, User Adaptation Protocols (M2UA, M3UA, SUA), Security Issues
IP Tunneling
Backgrounder
Overview of Codec Types (Media Codecs, Audio Codecs, Video Codecs)
Voice over IP
H.248 / MEGACO
Functions, Protocol Architecture
Introduction to SIP and SDP
Frame Types, Messages, Parameters, Message Sequences and Transaction Flows
PRACTICE:

SIP-Session Setup and Release. Recording of the session at our Test-Network. Evaluation of the Traces.
Mobile IP
Concepts and General Operation (Address Forewarding)
Home Agents, Foreign Agents, Router Advertisments, Registration Process
Mobile IP Data Encapsulation (Tunneling), Efficiency and Security Issues
Quality of Service in IP Networks
The QoS Issue
What is QoS in IP-Networks
Approaches and techniques
(IntServ, DiffServ, Traffic Inspection), Pros and Cons of these techniques.
QoS in the Link layers
(QoS in Ethernet-based networks, QoS in ATM-based networks)
Details of IntServ
Function, Frame Types, Parameters, Tunnel Setup and Release, Typical Use Case
Details of DiffServ
Function, DSCPs, Per Hop Forwarding (PHB), Interaction of DiffServ with IntServ, Traffic Inspection and / or MPLS
MPLS
Functions, Terminology, Architecture, Label Switched Paths (LSP), Label Edge Routers (LER), Label Switch Routers (LSR).
PRACTICE:

VoIP sessions / Video-over-IP in our test network.
Configuration of QoS parameters
Evaluating sessions with and without QoS, discussing consequences.
Security in IP networks
Spoofing
Content Alteration, Privacy Violations
Overview of SSL, IPSec, VPN
RSA Authentication and Encryption, X.509 Certificates and how they work
Overview of some Algorithms
MD-5, SHA-1, DES and 3-DES, AES
PRACTICE:

Authenticated access to the FTP-server in our test network through a hashed predefined password.

RSA-Authentication and Encryption
Public Keys and Private Keys, X.509 Certificates, RSAES and RSAEP.
Secure Socket Layer
Initialisation, Session Keys, Operation, TLS
PRACTICE:

Recording and evaluation of the setup of an SSL-connection for e-commerce in our test network.

IPSec and VPN:
Operation Modes, AH and ESP, IKE, ISAKMP
PRACTICE:

Setting up an IPsec VPN through our test network.
Recording and evaluating the involved signalling messages.
v1.6

Search:
Advanced Search
---
More Info:
General Information about this course
Schedule of this training course
Extract of this training course
Buy this book
---
INACON eBooks
Please have a look at our full offer

---