Bookstore
DVB-H from A-Z
Some of your questions that will be answered by this book: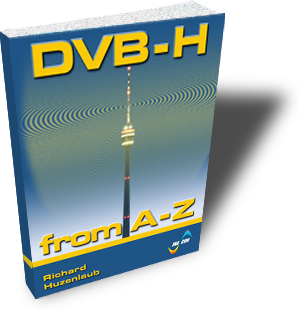 What is Broadcast and Multicast, what are the most popular technologies behind and what are the fields of operation?
What does the DVB architecture and look like, where is it based upon and what is DVB-H in particular?
What are MPEG streams and how are they applied in DVB-H?
How does time-slicing work and does it contribute to power saving in UE's?
What is OFDM and COFDM and which modulation schemes are applicable to DVB-T and DVB-H?
How do DVB-T and DVB-H relate to each other, what are the differences and why?
What is IP Datacast and why is it only applicable to DVB-H?
What is FLUTE and how does it work?
What are PSI tables and how are they used for service discovery?
How does the exchange of security keys and content protection work in DVB?
Who should acquire this book?
The book is mainly targeted at students who need an introduction to all aspects of Mobile TV technology, equipment and required network architecture, such as UE vendors, infrastructure vendors, network operators and development/testing/operating staff who need to understand, operate and maintain broadcast / multicast services.
Product Details:
Paperback
246 Pages
over 120 Illustrations and Tables
ISBN 978-3-936273-68-7

Price Paperback: Euro 299.- (net)

Price eBook: Euro 249.- (net)


Download the order form and fax or e-mail it to us (inacon@inacon.de)


$product = 147; // include_once("../shop/lib/scripts/php/shop/basket_add.php"); ?>
Search:
Advanced Search
---
More Info:
General Infomation to this Book
Detailed ToC of this Book

---
INACON eBooks
Please have a look at our full offer

---