DVB-H from A-Z
[2-day course, Euro 2,350.- (net) per participant]
Training Course Description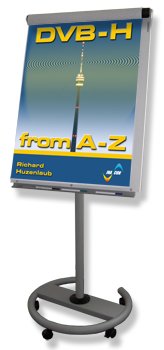 This training course addresses the needs of engineers and technicians, who need to get familiar with Multimedia Broadcast technologies in general and the Digital Video Broadcast to the handheld in particular.
The training course starts with an overview of the important video broadcasting technologies, such as Digital Video Broadcasting (DVB), Digital Multimedia Broadcast (DMB), Multimedia Broadcast / Multicast Service (MBMS), Advanced Television Systems Committed (ATSC) and their area of application (stationary desktop, in-car usage, handheld devices).
With the general broadcasting overview and competing technologies in mind, we will then focus on the specific architecture of DVB-T and DVB-H. We will explain the logical functions, network entities, operation modes and present some important scenarios.
Typical operations from the UE point of view will be explained using FLASH animations.
The training course continues with the elaboration of important key technologies for DVB-T / H like OFDM, COFDM and the modulation schemes used for the subcarriers (16-QAM, and 64-QAM), comparison to other DVB transmissions (DVB-S, DVB-C) with QPSK and 32-QAM.
An important focus is on DVB transport, the frame structure of streams such as Elementary Stream (ES), Packetized Elementary Stream (PES), MPEG2 transport stream (MPEG2-TS) and the control of media packets in such streams.
The physical layer section will be competed with a detailed review of the DVB-H specific enhancements as compared to DVB-T, such as IP based MPE over DVB-T and the DVB-H specific TPS signaling.
The DVB-H link layer functions, such as Multi-Protocol Encapsulation (MPE) with FEC, Time-Slicing, Handover / Cell Reselection will be presented as the key features of DVB-H.
We will then review the higher layer protocol architecture and service delivery from applications. This includes detailed considerations of RTP / RTCP and FLUTE as bearer independent service delivery protocols.
The final chapter is dedicated to selected important scenarios of DVB-H operation such as setup and operation of a streaming session, a file download session and delivery of Web pages (webcasting).
Some of your questions that will be answered
What is Broadcast and Multicast, what are the most popular technologies behind and what are the fields of operation?
What does the DVB architecture and look like, where is it based upon and what is DVB-H in particular?
What are MPEG streams and how are they applied in DVB-H?
How does time-slicing work and does it contribute to power saving in UE's?
What is OFDM and COFDM and which modulation schemes are applicable to DVB-T and DVB-H?
How do DVB-T and DVB-H relate to each other, what are the differences and why?
What is IP Datacast and why is it only applicable to DVB-H?
What is FLUTE and how does it work?
What are PSI tables and how are they used for service discovery?
How does the exchange of security keys and content protection work in DVB?
Who should attend this class?
The training course is mainly targeted at students who need an introduction to all aspects of Mobile TV technology, equipment and required network architecture, such as UE vendors, infrastructure vendors, network operators and development/testing/operating staff who need to understand, operate and maintain broadcast / multicast services.
Pre-Requisites
It is useful, if the student already has some basic technical understanding of mobile technologies, such as GSM and / or UMTS as well as a general knowledge about the TCP/IP protocol architecture.
Training Course Target
After the training course, the student will be able to ...
describe all technical aspects of the new broadcast technology development and how it compares to other broadcast technologies such as MBMS and DMB.
Fully understand the architecture, technology background and implementation impact for the DVB-H service, rollout and operation of both terminal and network related components.

Training Course Duration
v1.100

Search:
Advanced Search
---
More Info:
Detailed ToC of this training course
Schedule of this training course
Buy this book

---
INACON eBooks
Please have a look at our full offer

---