Bookstore
Cutting Edge Technologies 2008/2009
Some of your questions that will be answered by this book: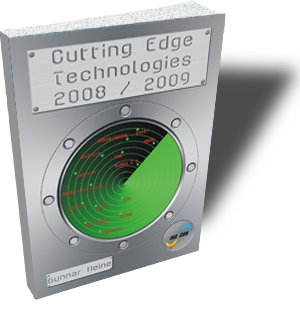 What are the new application and services currently on the radar screen?
Which video broadcasting technologies are applicable to handheld devices, what is DVB-H and how does it work?
What is the IP Multimedia Subsystem (IMS), which network elements and protocols are affected?
Which improvements in performance can be achieved with the introduction of EDGE and/or HSDPA/HSUPA and what are the technical changes being introduced?
Why is OFDM/OFDMA so appealing, when it comes to next generation radios?
What are the physics and principles behind SAIC and MIMO?
How do the new wireless access networks WLAN, WiMAX and UMAN work and where are these technologies applicable?
What is the impact of these technologies regarding handset complexity, new services, user experience and network efficiency?
Who should acquire this book?
The training course is particularly useful for product- and project engineers, requiring an overview on future technologies with impact on mobile devices, networks and applications.
Everybody who requires to understand the technologies behind the popular terms on the radar screen of telecommunication developments (management, marketing, sales, consulters, etc.)
Product Details:
Paperback
151 Pages
~ 50 Illustrations and Tables
ISBN 978-3-936273-52-6

Price Paperback: Euro 129.- (net)

Price eBook: Euro 109.- (net)


Download the order form and fax or e-mail it to us (inacon@inacon.de)


$product = 54; // include_once("../shop/lib/scripts/php/shop/basket_add.php"); ?>
Search:
Advanced Search
---
More Info:
General Infomation to this Book
Detailed ToC of this Book
Download an Extract of this Book
Also available as eBook
---
INACON eBooks
Please have a look at our full offer

---