Cutting Edge Technologies 2008/2009
[1-day course, Euro 1,500.- per participant]
Training Course Description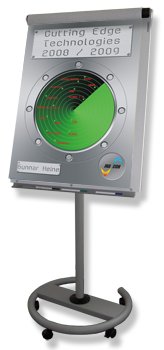 This training course addresses the needs of technical staff as well as account managers, consultants, technical sales staff, product- and project managers who need to get familiar with advanced developments in the field of wireline and wireless communication technologies.
The training course is an annual update with the focus on business, service and technical perspective of selected new technologies on the radar screen of design teams or close to implementation.
This latest version covers technological evolutions in the areas of 3GSM networks, WiMAX- and WLAN-networks, fixed telecom networks and in the applications domain.
Opposed to previous releases, this training course emphasizes and highlights business related threats and chances of technical developments and technologies.
Very interesting: the training course discusses the changing value chain in telecommunication and it highlights potential applications of tomorrow.
Serious consideration is given to the discussion of the various ongoing trends like mobile TV, WiMAX-network rollout or the Android-system.
With respect to 3GSM-networks, the training course emphasizes the latest extensions like HSPA+ and the so called GERAN-evolution. Focus is also on the introduction of LTE and SAE.
Another chapter deals with the latest developments in the area of WiMAX- and WLAN-networks. Example: What are the amendments with WiMAX 2.0?
This part of the training course concludes with a comparison of these technologies and we also consider implementation options like Femto-cells or the home hot spot.
The training course also highlights the latest developments in the area of NGN's and MNGN's, with special focus on the IMS.
Some of your questions that will be answered
Which trends are currently visible in the field of mobile telecommunication?
What are the most recent news about previously announced hypes and technical developments?
Which standardization committees like 3GPP or OMA will orchestrate tomorrow's mobile telecommunication environment?
What are the value chains of tomorrow's telecom networking and how do we have to adjust to still earn money?
With respect to nomadic and mobile data services: Which are served best through which type of network?
Does Google have a real chance to become a major player in the telecom arena?
What are the key features, differences and performance values of new technologies like
HSPA+, LTE, WiMAX or "evolved EDGE"?
How do smart antenna systems really work?
What are typical characteristics of 4G systems in terms of architecture, radio or performance?
How will the 4G CPE's internally differ from today's devices?
Which applications may become killer applications within a 4G network environment and how can my organization possibly prosper from this development?
Who should attend this class?
Project managers and decision makers who need to understand and interpret the latest technical evolution not in the last detail but in principle.
Technicians who shall keep on track with the technical evolution.
Pre-Requisites
The student should possess basic technical and business understanding of today's wireline and / or wireless communication technologies.
A basic understanding of Mobile Communication technologies, such as GSM and / or UMTS is desirable.
Training Course Target
The student is enabled to understand the business aspects, services and technical aspects of the new technological developments and how they fit to the communication roadmap.
In addition the student will understand the driving forces behind the migration towards an all IP-network and become aware of future technological and business opportunities.
The student will be enabled to effectively communicate to content and service providers, customers, decision makers etc. when it comes to the design, application and / or introduction of new technology features and services.
Training Course Duration
v2.000

Search:
Advanced Search
---
More Info:
Detailed ToC of this training course
Schedule of this training course
Extract of this training course
Buy this book

---
INACON eBooks
Please have a look at our full offer

---