Our Vision of Classroom Training:
Certified Trainers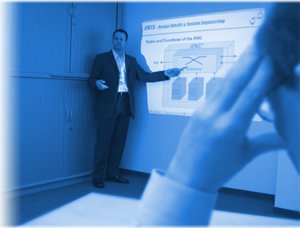 It is the trainer who is responsible for a rewarding and successful learning experience. Within INACON GmbH, we clearly understand this issue and we have taken various measures to ensure that our classroom training remains the unrivalled number 1 in quality and success.
Each INACON trainer is member of our staff. To become an INACON trainer is not easy. Everybody has to prove long years of practical experience in more than one relevant area like GSM, UMTS or TCP/IP.
But technical experience is by far not sufficient for us. Before a new trainer may conduct a customer training by himself, we perform extensive and tailored train-the-trainer sessions in areas like presentation skills, verbal and non-verbal communication and, last but not least, learning psychology.The final exam of each new trainer is a many hours of real-life training sessions in front of the other trainers.
Search:
Advanced Search
---
Our Advantages
Certified Trainers
Documentation Quality
Practical Experience
Complexity in a Nutshell
Real Life Examples
After Sales Support
Interactive Exercises
Customer Feedback
---
INACON eBooks
Please have a look at our full offer

---