Schedule of Classroom Training -

UMTS - Signaling & Protocol Analysis (UTRAN and UE)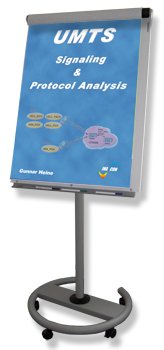 This unique training course focuses on the detailed description and analysis of signaling procedures within the UTRAN. Following a short review of UMTS and UTRA design aspects, the training course investigates in full detail the tasks, message structures and parameters of all relevant protocols within the UTRAN (RRC, RLC, MAC, PDCP, NBAP, ALCAP). The major focus of the training course is the presentation of all important UMTS-procedures like registration, detachment, call establishment or handover. This part includes the in-depth analysis of particular messages and parameters. The training course provides in-depth knowledge and reference material about the various signaling procedures within the UTRAN and over the Uu-interface. The complete training course requires 5 days. However, we can tailor the training course to 3 days. Please contact us to negotiate your solution.
[3-day training course, Euro 2,420.- per participant]
We are sorry, but at the moment no open training course is scheduled. If you are interested in this training course, please contact us.
Search:
Advanced Search
---
More Info:
General Information about this course
Detailed ToC of this training course
Extract of this training course
Buy this book
---
INACON eBooks
Please have a look at our full offer

---