Bookstore
UMTS - Signaling & Protocol Analysis (UTRAN and User Equipment)
Some of your questions that will be answered by this book: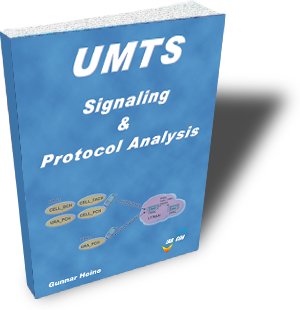 How can I follow "my" call flow in a recording file? How can I link the various messages of a single call flow to each other?
Where in a recording file can I lookup the allocated bearer capabilities or the AMR-coder type?
Why do some UMTS protocols like RRC use the Packed Encoding Rules (PER) and how does this impact the protocol analysis?
Why are there different types of RNTI's and when is each one used?
Which parameters, message types and formatting are used by the various protocols within the UTRAN?
How does a Radio Bearer Setup work? Which messages are involved and how is the bearer specified?
How is an RRC-connection setup? Which timers are involved?
What is the message flow in the various UMTS scenarios?
Who should acquire this book?
Everybody who requires detailed knowledge of the UMTS signaling procedures on the Uu- Iub- and Iu-Interfaces.
Product Details:
Paperback / eBook
501 Pages
over 210 Illustrations and Tables
ISBN 978-3-936273-30-4

Price Paperback: Euro 399.- (net)

Price eBook: Euro 299.- (net)


Download the order form and fax or e-mail it to us (inacon@inacon.de)


$product = 45; // include_once("../shop/lib/scripts/php/shop/basket_add.php"); ?>
Search:
Advanced Search
---
More Info:
General Infomation to this Book
Detailed ToC of this Book
Download an Extract of this Book

---
INACON eBooks
Please have a look at our full offer

---