UMTS - Signaling & Protocol Analysis
(UTRAN and User Equipment)
[3-day training course, Euro 3,450.- per participant]
Training Course Description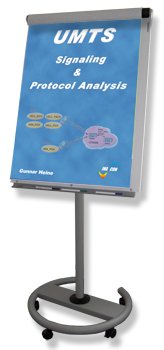 This unique training course focuses on the detailed description and analysis of signaling procedures within the UTRAN.
Following a short review of UMTS and UTRA design aspects, the training course investigates in full detail the tasks, message structures and parameters of all relevant protocols within the UTRAN (RRC, RLC, MAC, PDCP, NBAP, ALCAP).
The major focus of the training course is the presentation of all important UMTS-procedures like registration, detachment, call establishment or handover. This part includes the in-depth analysis of particular messages and parameters.
Whenever applicable, we use real life examples from various sources to provide a realistic view on UMTS-signaling issues.
The training course provides in-depth knowledge and reference material about the various signaling procedures within the UTRAN.
As in all INACON training courses we integrated several interactive exercises for a perfect learning experience.
Please click here for a detailed Table of Contents (ToC)
Some of your questions that will be answered
How can I follow "my" call flow in a recording file? How can I link the various messages of a single call flow to each other?
Where in a recording file can I lookup the allocated bearer capabilities or the AMR-coder type?
Why do some UMTS protocols like RRC use the Packed Encoding Rules (PER) and how does this impact the protocol analysis?
Why are there different types of RNTI's and when is each one used?
Which parameters, message types and formatting are used by the various protocols within the UTRAN?
How does a Radio Bearer Setup work? Which messages are involved and how is the bearer specified?
How is an RRC-connection setup? Which timers are involved?
What is the message flow in the various UMTS scenarios?
Who should attend this class?
Everybody who requires detailed knowledge of the UMTS signaling procedures on the Uu- Iub- and Iu-Interfaces.
Pre-Requisites
The student needs to have detailed knowledge about all generic aspects of UMTS like the network architecture, the specifics of W-CDMA and the signal processing chain within UTRAN.
It is strongly recommended to take our training course "UMTS – Design Details & System Engineering" in advance.
Previous knowledge about protocols like SCCP and MTP is favorable.
Training Course Target
The student is enabled to take, analyze and interpret UMTS recording files on the various interfaces within the UTRAN and on the Uu-interface.
The student learns how to use which identifiers to follow single signaling procedures and how to determine possible errors in such signaling procedures.
Training Course Duration
v1.6

Search:
Advanced Search
---
More Info:
Detailed ToC of this training course
Schedule of this training course
Extract of this training course
Buy this book
---
INACON eBooks
Please have a look at our full offer

---