SS7 - Protocols & Operation and Services
[3-day training course, Euro 3,450.- per participant]
Training Course Description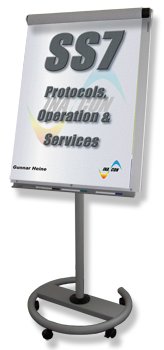 This training course addresses the needs of engineers and technicians who shall establish sophisticated and detailed knowledge about the Signaling System No 7 and the related protocol stack.
The training course explains in detail the lower layer of the SS7-protocol stack (MTP 1, MTP2 and MTP3) and lines out the format and parameters of the FISU, LSSU and MSU.
The training course continues with the SS7 network architecture and explains the tasks and functions of SP's, SCP's and STP's.
The next part focuses on the introduction of higher layers of the SS7-protocol stack like the SCCP, TCAP, TUP and ISUP.
Of training course, we integrated a chapter about Intelligent Networking (IN).
The training course has been updated and now also covers SIGTRAN which is manifested through the new protocols STCP and M3UA which provide for the routing of SCCP-messages over IP-networks, possibly encrypted.
The training course concludes with the practical examination of SS7-recording files in real life networks.
As in all INACON training courses we integrated several interactive exercises for a perfect learning experience.
Please click
here
for a detailed Table of Contents (
ToC
)
Some of your questions that will be answered
How is routing performed in MTP 2 and 3 through OPC and DPC?
What does Change Over / Change Back stand for?
When and why are SCCP connection-less or connection-oriented services used by higher layers?
Why are points code sometimes provided in 4-3-4-3 syntax, other times in 3-8-3-syntax and yet at other times in hex?
How can I determine whether all our ISUP-trunks are load-shared?
Who should attend this class?
Operations staff of switches and the related equipment
MTSO-staff who shall perform protocol tester measurements on switches
Everybody who requires a detailed understanding of SS7 signaling procedures
Pre-Requisites
Very good understanding of telecommunication networks and the related protocols.
Fundamental knowledge of the Signaling System No 7.
Training Course Target
The student will understand all relevant details of activating and managing AMR.
The student will gain a thorough comprehension of AMR in the mobile station, the BTS and the TRAU.
The students obtain the capability to implement AMR to their specific hard- and software platform.
Training Course Duration
v1.1

Search:
Advanced Search
---
More Info:
Detailed ToC of this training course
Schedule of this training course
Extract of this training course
Buy this book
---
INACON eBooks
Please have a look at our full offer

---