LTE - Interworking with WiFi
[2-day course, Euro 2,350.- (net) per participant]
Training Course Description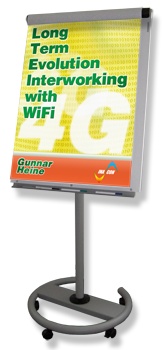 This course addresses the needs of managers, engineers and technicians who are involved in the design, consideration and development of interworking implementations between LTE and other 3GPP cellular standards on one hand and WiFi on the other hand. In that respect, the course focuses on both sides, UE/Mobile as well as network.
The course starts with an overview of the Mobile Network Architecture with Protocol Stacks, Access capabilities and applicability as well as handover principles.
We will then review different interworking options, such as I-WLAN, WISPr, tunneling through GAN / UMAN / VoLGA or as non-trusted, non 3GPP access network connecting to LTE infrastructure with DSMIP or PMIP as well as reviewing voice call setups with and without IMS support.
The course will continue with a detailed review of the 802.11 variants, differences and internal functions. This part provides a roadmap from 802.11-1999 up to the most recent 802.11n version.
We will discuss WiFi access mechanisms to the physical transport, such as CSMA/CD and the function and purpose of the DCF access function. This is done as it is crucial to understand the specifics and differences of WiFi vs. cellular network operation.
The interworking with the Physical Protocol Layer will be discussed both from the perspective of the terminal and from the network side with constraints, access permission mechanisms, how to obtain IP addresses etc.
The course will conclude with a comparison of the different access architectures, related handover types and recommendations regarding a most suitable implementation.
As in all our training courses, we integrated several interactive exercises for a perfect learning experience.
Some of your questions that will be answered
Why is there a need for WiFi to interwork with the EPC of 3GPP Rel. 8 and later and what are the different options for the network access?
How does a voice call setup work with WiFi , what are the options and what are the benefits of using VoLGA or IMS?
How is authentication of the terminal being done in case of a roaming through WiFi instead of a LTE access?
What is the protocol stack in case of a WiFi access network and what is the difference between DSMIP and PMIP?
Which are the implementation options for QoS in WiFi and how can the the performance be improved for certain services?
Which roles may the network and the UE take on when it comes to interworking?
How does a handover work between 3GPP access networks and a WiFi access network in case of a roaming mobile?
How is access permission being handled in case of non trusted non 3GPP access networks?
Who should attend this class?
The course is particular useful to engineers and technicians who are involved in the design, operation and interworking of LTE networks with WiFi access networks.
Network operators and technical staff who need understand the application of non trusted, non 3GPP access networks in a LTE environment.
Everybody who requires detailed knowledge about WiFi interworking with LTE.
Pre-Requisites
The student should possess good knowledge in wireless and/or cellular communication technology before coming to the course.
We would recommend our webinars or web based training courses on WiFi and LTE to be taken as course preparation.
Training Course Target
The student is enabled to understand, design and integrate WiFi based access networks and UE's as alternative to 3GPP access networks.
Training Course Duration
v1.000

Search:
Advanced Search
---
More Info:
Detailed ToC of this training course
Schedule of this training course
Buy this book

---
INACON eBooks
Please have a look at our full offer

---