HSPA+ Design Details & System Engineering
[2-day course, Euro 2,350.- (net) per participant]
Training Course Description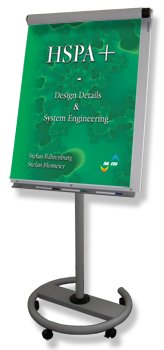 This course offers not only a detailed explanation of all vital Rel. 7 UTRA-features but also a condensed overview which makes this course a must for everybody who needs to setup, engineer, upgrade or operate HSPA+ equipment.
In the beginning of the course we review HSDPA and HSUPA in order to lay the foundation of HSPA+ understanding. Then we soon introduce HSPA+ and its new optional features for both UE and UTRAN. We explain what optional features are behind CPC and Enhanced FACH.
The following part reviews important HSDPA changes made in release 6 and in a bit more depth HSUPA. Note that these sections are not intending to replace detailed HSPA trainings in INACON's programs.
Special focus is laid on the areas where HSPA+ improves existing HSPA networks, e.g. in terms of peak subscriber throughput, air-interface efficiency and UTRA-capacity as well latency reduction for RRC and user data transfer.
The course continues with the elaboration of implementation of important key technologies like MIMO, higher order modulation schemes (4-PAM, 16-QAM, and 64-QAM), HS-SCCH-less operation, Enhanced FACH and Continuous Packet Connectivity (CPC).
After this technology foundation the L1 signaling aspects are intensively covered followed by MAC and RRC HSPA+ specifics.
In the next part we have a look into release 8 HSPA+ and work on features like 64-QAM together with MIMO and downlink interference cancellation in UE.
The final chapter is dedicated to selected important scenarios of HSPA+ operation such as PDP context establishment, serving cell change, and the data flow
Some of your questions that will be answered
How HSDPA has been enhanced in release 6 with F-DPCH and Pre- as well Postamble sending?
What are the key principles of Scheduling and throughput generation in HSUPA, e.g. scaling of transport block with a certain power offset granted by NodeB?
What are the differences in-between HSPA and HSPA+ in terms of peak data rates, efficiency and capacity?
What is MIMO and what makes it that important for tomorrow's mobile radio standards?
How MIMO is introduced in HSPA+ and what needs to be changed in terms of signaling and protocols?
How MIMO competes with downlink Dual Cell HSDPA (dual carrier HSDPA)?
What individual features hide behind the term Continuous Packet Connectivity and what needs to be done in order to efficiently implement them in HSPA+?
How does the new generation of Layer 1 signaling look like in HSPA+ making use of HS-SCCH, e.g. how can uplink DTX and/or downlink DRX be switched on/off by NodeB?
How do MAC and RRC protocols change for HSPA+ and in particular with the Enhanced FACH feature set? The so called eFACH enables higher throughput rates and reduced latency when FACH and PCH are replaced by HS-DSCH in CELL_FACH and XXX_PCH states!
When and how MIMO can be combined with 64-QAM?
How can downlink interference cancellation be implemented in the UE?
How HSPA+ might evolve further beyond release 8?
Will important scenarios like PDP context activation and serving cell change de different in HSPA+?
How DL and UL data is transferred to and from TCP/IP services?
Who should attend this class?
The course is mainly targeted at UE vendor, infrastructure vendor and network operator development/testing/operating staff who need to upgrade today's HSPA equipment/networks to HSPA+.
Pre-Requisites
Participants should be already familiar with UMTS and HSPA. This should stem from previous exposure to design, troubleshooting or operations jobs in UMTS/HSPA telecommunication networks.
HSPA+ deals to a great extend with amendments of HSPA Layer 1 but also enhances quite a bit RRC due to HS-DSCH reception in CELL_FACH and XXX_PCH so a fair knowledge of UMTS Protocol Stack architecture is advantageous.
Training Course Target
The course enables the students to to test, to plan, and to operate HSPA+ in their specific environment, in their specific networks.
The student will be able to judge the various implementation variants of HSPA+ and to decide on a preferred implementation and deployment of HSPA+.
Training Course Duration
v3.500

Search:
Advanced Search
---
More Info:
Detailed ToC of this training course
Schedule of this training course
Extract of this training course
Buy this book
Buy this book as eBook

---
INACON eBooks
Please have a look at our full offer

---