3GSM and TCP/IP –
Protocols, Operation & Services

[3-day training course, Euro 3,450.- per participant]
Training Course Description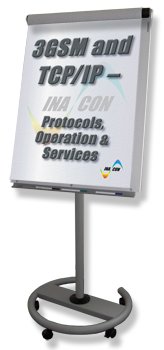 This training course addresses the needs of engineers and technicians who need to enable packet data applications on top of GPRS and UMTS.
The training course first introduces the student into the details of TCP/IP and its application protocols and operation. This section is followed by pointing out the different options for IP address allocation and advanced TCP/IP operation.
The next part clearly lines out the differences between the different Packet Data Protocols that are supported by GPRS and UMTS.
The training course concludes with the consideration of TCP/IP-performance measurements and possibilities to determine this performance in the wireless environment.

As in all INACON training courses we integrated several interactive exercises for a perfect learning experience.
Please click
here
for a detailed Table of Contents (
ToC
)
Some of your questions that will be answered
Why is the TCP back off mechanism critical in the wireless environment
What can we do to minimize its impact in case of cell reselections?
Does it make sense to allocate private IP-addresses to our mobile subscribers? What are the implications of using Network Address Translation?
What is the difference between the GPRS application protocols PPP and IP?
How can we implement a virtual dial-up service to an external ISP over our network?
What is required to establish VPN access for our volume customers?
How does IPsec operate? How can we implement it in our network?
What options are there for authenticating a user? What differences are there between PAP/CHAP and RADIUS?
How can we measure and improve the performance of our GPRS-network?
Who should attend this class?
Everybody who needs to optimize GPRS networks.
Everybody who needs to understand the implications of merging IP and 3GSM.
Content and Service Providers of Mobile Packet Data
Pre-Requisites
A basic understanding of TCP/IP is required.
A basic understanding of GPRS and UMTS data transmission characteristics is required.
Training Course Target
The student is enabled to understand and judge the behavior and specific problems of TCP/IP in the wireless environment.
In addition the student learns the different options for allocating IP-addresses to mobile subscribers, incl. through VPN-access. In that respect, the student also learns about IPsec.
The student will be enabled to effectively communicate to content providers and IT-people when it comes to the configuration, restrictions and benefits of potential services for 3GSM packet data networks.
Training Course Duration
v1.6

Search:
Advanced Search
---
More Info:
Detailed ToC of this training course
Schedule of this training course
Extract of this training course
Buy this book
---
INACON eBooks
Please have a look at our full offer

---