Bookstore
3GSM and TCP/IP – Protocols, Operation & Services
Some of your questions that will be answered by this book: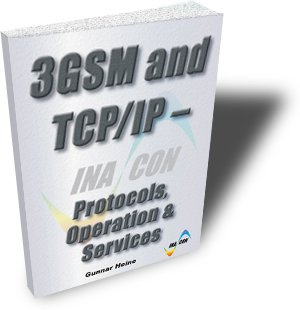 Why is the TCP back off mechanism critical in the wireless environment
What can we do to minimize its impact in case of cell reselections?
Does it make sense to allocate private IP-addresses to our mobile subscribers? What are the implications of using Network Address Translation?
What is the difference between the GPRS application protocols PPP and IP?
How can we implement a virtual dial-up service to an external ISP over our network?
What is required to establish VPN access for our volume customers?
How does IPsec operate? How can we implement it in our network?
What options are there for authenticating a user? What differences are there between PAP/CHAP and RADIUS?
How can we measure and improve the performance of our GPRS-network?
Who should acquire this book?
Everybody who needs to optimize GPRS networks.
Everybody who needs to understand the implications of merging IP and 3GSM.
Content and Service Providers of Mobile Packet Data
Product Details:
Paperback / eBook
319 Pages
over 130 Illustrations and Tables
ISBN 978-3-936273-23-6

Price Paperback: Euro 399.- (net)

Price eBook: Euro 299.- (net)


Download the order form and fax or e-mail it to us (inacon@inacon.de)


$product = 1; // include_once("../shop/lib/scripts/php/shop/basket_add.php"); ?>
Search:
Advanced Search
---
More Info:
General Infomation to this Book
Detailed ToC of this Book
Download an Extract of this Book

---
INACON eBooks
Please have a look at our full offer

---