Bookstore
WiFi from A-Z
Some of your questions that will be answered by this book: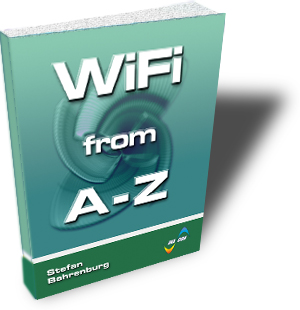 What is the difference between IEEE 802.11a, b, e, f, g, i, and n?
How to the different physical access schemes used in WiFi work?
How is OFDM working and why it is used in the newer WiFi standards?
What technologies are used in order to enhance the throughput of WiFi?
What are the throughput limitations for the various WiFi derivatives?
How scheduling is performed in the different 802.11 modes?
What are the functions do the different WiFi-sublayers?
How can I roam between several AP's while encryption is applied?
How and by whom are concurrent accesses and priorities controlled?
How voice services are provided using WiFi?
What is the work split in-between IEEE and WiFi?
What WiFi certificates the products have to adhere to?
Who should acquire this book?
Mobile network operators who want to add WiFi-Hot-Spots to their existing network infrastructure.
Operator of WiFi networks.
Engineers and technical staff who require detailed inside knowledge of the WiFi and IEEE 802.11 standards.
Design and test engineers who would like to be enabled quickly for WiFi technology.
Product Details:
Paperback / eBook
478 Pages
over 220 Illustrations and Tables
ISBN 978-3-936273-07-0

Price Paperback: Euro 299.- (net)

Price eBook: Euro 249.- (net)


Download the order form and fax or e-mail it to us (inacon@inacon.de)


$product = 148; // include_once("../shop/lib/scripts/php/shop/basket_add.php"); ?>
Search:
Advanced Search
---
More Info:
General Infomation to this Book
Detailed ToC of this Book

---
INACON eBooks
Please have a look at our full offer

---