Bookstore
UMTS - Network Optimization & Trouble Shooting
Some of your questions that will be answered by this book: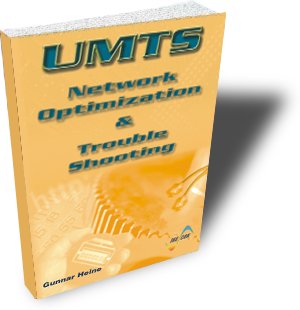 What does network performance in UMTS stand for and how does it compare to GSM- or GPRS-network performance?
How can I determine our actual network performance?
What is meaning of the parameter "Received-total-wide-band-power" which is conveyed from the NodeB to the RNC during radio link setup?
How can I measure and compare the quality (Bit Error Rate / Frame Erasure Rate) per cell, per NodeB or per RNS on the Iub-Interface for both uplink and downlink?
How can I distinguish application and user equipment failures which are outside of our scope from real network problems?
What is the meaning of the various timers and counters which are broadcast in the System Information Blocks
Which system parameters can I tune to optimize the UE's idle mode behavior? (e.g. S-intrasearch, t-Reselection-S, Qhyst, Qoffset, ...)?
How can I nail down performance bottlenecks in the different parts of our network?
How can I minimize the interference through the use of diversity transmission methods?
How can I optimize the network access procedure for both, minimum delay times and minimum interference.
What is the optimum configuration of the different RLC counter and timer values (e.g. Max-DAT, timerPoll, transmissionWindowSize, …) to provide the best possible service for transparent, unacknowledged and acknowledged operation modes.
What are the best measurement tools for the Uu-interface and within UTRA?
Who should acquire this book?
Network operator staff who are involved in the optimization of UTRA and who need to continuously improve the network performance.
System vendors who are involved in second and third level troubleshooting activities
Product Details:
Paperback / eBook
381 Pages
over 160 Illustrations and Tables
ISBN 978-3-936273-11-3

Price Paperback: Euro 399.- (net)

Price eBook: Euro 299.- (net)


Download the order form and fax or e-mail it to us (inacon@inacon.de)


$product = 42; // include_once("../shop/lib/scripts/php/shop/basket_add.php"); ?>
Search:
Advanced Search
---
More Info:
General Infomation to this Book
Detailed ToC of this Book
Download an Extract of this Book
Also available as eBook
---
INACON eBooks
Please have a look at our full offer

---