Bookstore
UMTS, EGPRS & GSM - Updates with Rel. 5, 6, 7 & beyond
Some of your questions that will be answered by this book: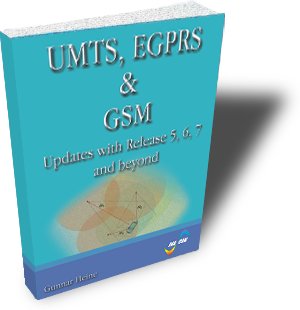 What are the most important features and enhancements with 3GPP Release 5, 6 and 7?
Which of these features overlap in which way? (Example: MBMS <-> IMS)
How will the IMS influence the future evolution of GERAN and UTRAN?
What is the difference between UMA, Generic Access, "I-WLAN direct IP-access" and "I-WLAN 3GPP IP-Access"?
How does EAP-SIM achieve mutual authentication although the SIM cannot provide it?
How are IPsec-tunnels established between mobile station and network entities like GANC or PDG using IKEv2? How does IKEv2 operate in detail?
How does HSDPA operate and how does it achieve its higher throughput rates? What are the new channels with HSDPA?
How does HSUPA operate and how can it use a spreading factor of 2? Which new channels does HSUPA require and how do they operate?
How does MBMS operate and what are the differences between MBMS and DVB-H? Which new channels does MBMS introduce in UTRAN and in GERAN?
What is Downlink Dual Carrier Operation in GERAN Release 7 and how does it operate?
How do MIMO-systems operate and how can they achieve their performance?
How does E-UTRA apply OFDM?
Who should acquire this book?
Engineers, technicians and managers in charge who need to understand in detail the upcoming changes within 3GPP-networks and the implications for their work.
Network Operators who need to know which features will become available in the medium term future and how to introduce them.
Product Details:
Paperback / eBook
330 Pages
over 140 Illustrations and Tables
ISBN 978-3-936273-19-9

Price Paperback: Euro 399.- (net)

Price eBook: Euro 299.- (net)


Download the order form and fax or e-mail it to us (inacon@inacon.de)


$product = 46; // include_once("../shop/lib/scripts/php/shop/basket_add.php"); ?>
Search:
Advanced Search
---
More Info:
General Infomation to this Book
Detailed ToC of this Book
Download an Extract of this Book

---
INACON eBooks
Please have a look at our full offer

---