UMTS, EGPRS & GSM -
Updates with Rel. 5, 6, 7 & beyond
[3-day training course, Euro 3,450.- per participant]
Training Course Description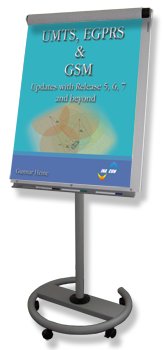 This training course addresses the needs of engineers and technicians who need to understand the most important new features and enhancements of the 3GPP-Releases 5, 6 and 7 and the ideas of 3GPP with respect to the long term evolution (LTE).
In that respect, the training course contains tabular overview sections that outline which network parts are affected by a change and whether the changes are mandatory or optional. In the next part, the training course provides a short overview of every feature and describes its operation and important characteristics.
The training course delves into more detail on some selected Release 5, 6 and 7-features. For Release 5, we explain in sufficient detail the IMS and HSDPA operation.
For Release 6, a detailed introduction into HSUPA, MBMS and the adoption of alternative RAT's like WLAN or WIMAX as I-WLAN or GAN (formerly UMAN) is included.
This part includes a detailed description of the operation of important authentication and tunnel setup procedures EAP-SIM, EAP-AKA and IKEv2.
For Release 7, we describe the important enhancements in the IMS area plus we provide a description of how MIMO operates in general and how it shall be used within 3GPP-networks. In addition, we illustrate the operation downlink dual carrier operation for GERAN.
The training course concludes with a description of the long term evolution (LTE) concepts and ideas of 3GPP and an introduction to OFDM which will be used in 3GPP-networks.
Some of your questions that will be answered
What are the most important features and enhancements with 3GPP Release 5, 6 and 7?
Which of these features overlap in which way? (Example: MBMS <-> IMS)
How will the IMS influence the future evolution of GERAN and UTRAN?
What is the difference between UMA, Generic Access, "I-WLAN direct IP-access" and "I-WLAN 3GPP IP-Access"?
How does EAP-SIM achieve mutual authentication although the SIM cannot provide it?
How are IPsec-tunnels established between mobile station and network entities like GANC or PDG using IKEv2? How does IKEv2 operate in detail?
How does HSDPA operate and how does it achieve its higher throughput rates? What are the new channels with HSDPA?
How does HSUPA operate and how can it use a spreading factor of 2? Which new channels does HSUPA require and how do they operate?
How does MBMS operate and what are the differences between MBMS and DVB-H? Which new channels does MBMS introduce in UTRAN and in GERAN?
What is Downlink Dual Carrier Operation in GERAN Release 7 and how does it operate?
How do MIMO-systems operate and how can they achieve their performance?
How does E-UTRA apply OFDM?
Who should attend this class?
Engineers, technicians and managers in charge who need to understand in detail the upcoming changes within 3GPP-networks and the implications for their work.
Network Operators who need to know which features will become available in the medium term future and how to introduce them.
Pre-Requisites
The student needs to have a thorough understanding of physical upper layer aspects of GSM, EGPRS and UMTS.
Good comprehension of IP-stack issues in general and IP-security issues in particular is required.
Practical design or test experience on GSM, EGPRS or UMTS equipment is a big plus.
Training Course Target
After the training course the student will have a clear view of the evolutionary path of 3GPP-networks for the next 3 – 5 years.
The student will understand the principles of MBMS, IMS-operation, OFDM, MIMO, HSDPA, SIP-signaling and HSUPA.
The student will have a clear view on how alternative RAT's like WLAN or WIMAX can be integrated into the 3GPP-network environment, using the I-WLAN or the Generic Access (formerly UMA) approach.
Training Course Duration
v1.51

Search:
Advanced Search
---
More Info:
Detailed ToC of this training course
Schedule of this training course
Extract of this training course
Buy this book
---
INACON eBooks
Please have a look at our full offer

---