Bookstore
SIP, SDP and other NGN-Protocols - Signaling & Protocol Analysis
Some of your questions that will be answered by this book: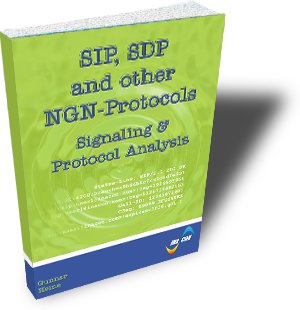 What is the difference between stateful and stateless SIP-proxies?
Can I use private IP-addresses and NAT with SIP?
How are SIP-messages identified that belong to the same transaction, to the same dialog and to the same call?
What are the differences between transactions, dialogs, sessions and calls with respect to SIP?
How can I add, remove or change media streams during a session?
What is a SIP-URI and how does it differ from a TEL-URL?
How is mutual authentication achieved in the 3GPP-based IMS?
How do 3GPP-specific procedures like GPRS-attachment and PDP-context activation interconnect with SIP-registrations and calls?
Who should acquire this book?
Engineers, technicians and IP-professionals who are involved in the setup, configuration and handling of SIP-enabled networks.
Everybody who requires practical experiences with the SIP- and SDP-protocols.
Product Details:
Paperback / eBook
471 Pages
over 200 Illustrations and Tables
ISBN 978-3-936273-15-1

Price Paperback: Euro 399.- (net)

Price eBook: Euro 299.- (net)


Download the order form and fax or e-mail it to us (inacon@inacon.de)


$product = 38; // include_once("../shop/lib/scripts/php/shop/basket_add.php"); ?>
Search:
Advanced Search
---
More Info:
General Infomation to this Book
Detailed ToC of this Book
Download an Extract of this Book
Also available as eBook
INACON eBooks
Please have a look at our full offer

---
---