SIP, SDP and other NGN Protocols -
Signaling & Protocol Analysis
[3-day training course, Euro 3,450.- per participant]
Training Course Description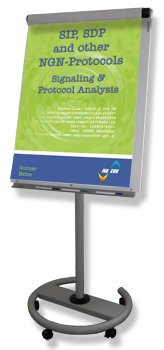 This training course addresses the needs of engineers and technicians who need to analyze the signaling messages within and among complex Next Generation Networks.
In that respect, some but not all emphasis is on IMS-based mobile networks as standardized by 3GPP for the enabling of IP-based multimedia services.
The technical focus of the training course lies on the understanding of SIP/SDP-based session control signaling among SIP-servers and between SIP-servers and SIP-terminals.
Especially the perspective of the SIP-terminals (UA) is covered in detail. And intentionally the training course does not focus only on standard voice calls but also covers other session types like instant messaging, gaming or VoD.
The student is confronted with various SIP/SDP-related and practice-oriented questions and exercises to gain the maximum output from the training course.
After a comprehensive review of NGN's, SIP and SDP and other protocols like IPsec, MSRP or DIAMETER the training course focuses on a detailed description of the various SIP- and SDP-aspects (Network Elements, SIP/SDP-Terminology, SIP-Timers) and on advanced SIP/SDP-operation.
The latter part deals among others with essential issues using SDP-preconditions and, very important, the handling of ungraceful session releases.
The training course continues with the presentation of typical SIP-scenarios for different applications like registration, video or voice call setup, application server access and interworking between SIP and ISUP.
One chapter is dedicated to 3GPP-based and IMS-enabled mobile networks and the related SIP- and SDP-specifics.
Note that this training course represents the protocol view of the IMS. A more architecture and network layout related training course about the IMS is also available. Please check at www.inacon.com.
As in all INACON training courses we integrated several interactive exercises for a perfect learning experience.
Please click here for a detailed Table of Contents (ToC)
Some of your questions that will be answered
What is the difference between stateful and stateless SIP-proxies, B2BUA's and SBC's?
How are SIP-messages identified that belong to the same transaction, to the same dialog and to the same call? And what are the differences between transactions, dialogs, sessions and calls with respect to SIP?
How are SDP-items and attributes used to specify an audio, video, message or gaming session? How can I add, remove or change media during a session?
How does the SIP-communication relate and interface to resource management within different types of IP-CAN's like GERAN/UTRAN, WIMAX or DSL/CableTV?
What is a SIP-URI, a PRES-URI or an IM-URI and how do they differ from a TEL-URI?
Which meaning do NAPTR, SRV and ENUM have?
How is mutual authentication (IMS-AKA) achieved in the 3GPP-based IMS?
How do 3GPP-specific procedures like GPRS-attachment and PDP-context activation relate to SIP-registrations and SIP-dialogs?
Who should attend this class?
Engineers, technicians and IP-professionals who are involved in the setup, configuration and maintenance of SIP-enabled networks.
Network Operators and technical assistance center suppliers who need to perform error diagnosis and troubleshooting within NGN's.
Everybody who requires detailed knowledge about the operation of SIP/SDP-based NGN's
Pre-Requisites
The student needs to have a solid background of the IP-protocol stack. Previous practical exposure to the configuration and operation of LAN/WAN is favorable.
Fundamental knowledge of mobile networks (particularly GSM, GPRS and UMTS) is necessary.
Practical experience with protocol testers and IP-sniffers (e.g. Ethereal) is necessary.
Training Course Target
After the training course the student will have a clear understanding of all details of SIP and SDP operation.
The student will understand how different session types are established through SIP over different types of IP-CAN's like DSL-lines, WIMAX or GERAN/UTRAN.
The student is enabled to perform sophisticated network analysis in SIP-enabled networks and to nail down typical network failures.
Training Course Duration
v2.100

Search:
Advanced Search
---
Detailed ToC of this training course
Schedule of this training course
Extract of this training course
Buy this book
Buy this book as eBook
---
INACON eBooks
Please have a look at our full offer

---