Bookstore
LTE Multi-RAT - Interworking with 4G & 2G/3G
Some of your questions that will be answered by this book: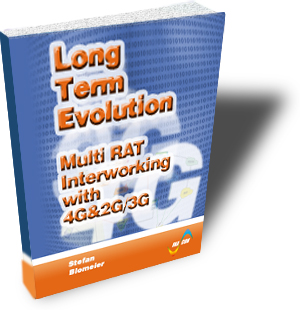 What is the legacy GERAN/UTRAN Architecture requiring the UE to support NMO-1, 2 or 3?
How can ISR help in reducing the Routing and Tracking Area Updates?
How could the Paging Success Rate be improved with LAC/RAC Harmonization in GERAN/UTRAN?
What are the differences between Network Operation Modes in GERAN/UTRAN and UE Operation modes in EPS?
What are the advantages for subscriber and operator when the UE performs prioritized Cell Reselection compared to ordinary offset based Reselection?
What is the difference between dedicated and common prioritizes for Inter Frequency and Inter-RAT's neighbors?
How can a Voice call be supported in EPS and how to ensure Service Continuity between different RAT's
Is SMS in roaming situations still supported in EPS via SGs-interface? And how does SMS over IMS work?
How many PDP Contexts should a GERAN/UTRAN network support in order to compete with the number of possible EPS Bearers in LTE/SAE?
Who should acquire this book?
This trainings enables Operators and Vendors to solve the interworking problems between the newly defined E-UTRAN and the existing 2G and 3G Radio Access Networks.
Product Details:
Paperback / eBook
407 Pages
over 170 Illustrations and Tables
ISBN 978-3-936273-72-4

Price Paperback: Euro 299.- (net)

Price eBook: Euro 249.- (net)


Download the order form and fax or e-mail it to us (inacon@inacon.de)


$product = 153; // include_once("../shop/lib/scripts/php/shop/basket_add.php"); ?>
Search:
Advanced Search
---
More Info:
General Infomation to this Book
Detailed ToC of this Book

---
INACON eBooks
Please have a look at our full offer

---