Bookstore
IEEE 802.11n - Design Details & Protocol Analysis
Some of your questions that will be answered by this book: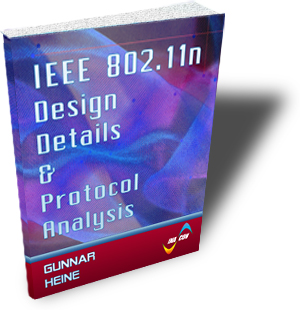 How does WiFi support the distinction of different QoS-requirements?
What are the various 802.11n-related enhancements?
How do MIMO, STBC, antenna selection and beamforming work?
How does an access point communicate which of the so called HT-features it supports?
How does the OFDM-specific PPDU-format change with 802.11n?
What are the specifics of channel bonding?
What is greenfield operation?
When is 40 MHz operation possible and when not?
Which changes and modifications does 802.11n require in the structure and format of the different MAC-frames?

How exactly do A-MPDU and A-MPDU aggregation work and how do they differ from each other?

What changes have been added to the BlockAck-procedure with 802.11n and which improvements do those changes offer?

How do security procedures operate in 802.11 in general?

Which additional gain is provided by EAP?

How do different EAP-procedures like EAP-TLS or EAP-AKA work?

What is pre-authentication and how does it work?
Who should acquire this book?
Test engineers who need to understand the 802.11n-features and their implications in detail.
Designers of 802.11n-equipment who require a deep inside view of the various enhancements.
Product Details:
Paperback / eBook
345 Pages
over 140 Illustrations and Tables
ISBN 978-3-936273-62-5

Price Paperback: Euro 299.- (net)

Price eBook: Euro 249.- (net)


Download the order form and fax or e-mail it to us (inacon@inacon.de)


$product = 150; // include_once("../shop/lib/scripts/php/shop/basket_add.php"); ?>
Search:
Advanced Search
---
More Info:
General Infomation to this Book
Detailed ToC of this Book

---
INACON eBooks
Please have a look at our full offer

---