Bookstore
H.248 / BICC in the Circuit Swiched Core Network - Trouble Shooting and Protocol Analysis
Some of your questions that will be answered by this book: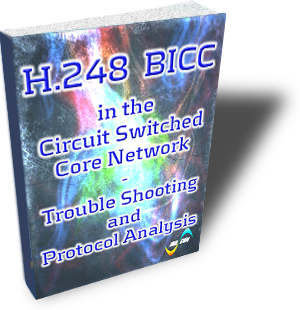 What are the protocol stacks at the Nb and Nc interfaces and which are the possible optional implementations with 3GPP Rel4?
What is the detailed Message Structure of ISUP / BICC?
Where are the differences between ISUP and BICC?
How does Media Transport work and what are the message header details of RTP / RTCP?
What is H.248 / MEGACO and how does it work?
How does a Soft Switch work?
What are the new and modified network entities and how do they operate?
What are contexts, terminations and how are they controlled for the provisioning of media resources?
Who should acquire this book?
The book is particular useful to design engineers who engineers and technicians who are involved in the operation, optimization and troubleshooting of circuit switched networks.
Network operators and technical staff who need understand Soft Switches and their application in 3GPP networks.
Everybody who requires detailed knowledge about the protocols at the Nb, Nc and Mc interfaces.
Product Details:
Paperback / eBook
478 Pages
over 220 Illustrations and Tables
ISBN 978-3-936273-69-4

Price Paperback: Euro 399.- (net)

Price eBook: Euro 299.- (net)


Download the order form and fax or e-mail it to us (inacon@inacon.de)


$product = 149; // include_once("../shop/lib/scripts/php/shop/basket_add.php"); ?>
Search:
Advanced Search
---
More Info:
General Infomation to this Book
Detailed ToC of this Book

---
INACON eBooks
Please have a look at our full offer

---