HSDPA - Design Details & System Engineering
[2-day course, Euro 2,350.- (net) per participant]
Training Course Description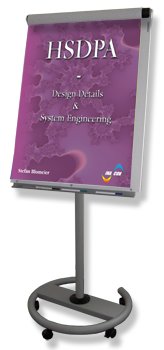 This training course is targeted for all engineers and technicians who need to gain an expert knowledge about the key functions of HSDPA like AMC (Adaptive Modulation and Coding) or HARQ (Hybrid Automatic Repeat Request)
The training course focuses on the necessary extensions of the UTRAN architecture in NodeB and UE which are required for HSDPA. Another focus is on the protocol enhancements like MAC-hs or on the frame protocols on Iub/Iur interface.
Special emphasis is put on NodeB's and UE's physical layer aspects, which allow a higher user data throughput far beyond conventional 384kbit/s.

As in all INACON training courses we integrated several interactive exercises for a perfect learning experience.
Please click
here
for a detailed Table of Contents (
ToC
)
Some of your questions that will be answered
What are the advantages for the subscriber using HSDPA capable UEs?
What are the implications of using 16-QAM-modulation?
How do HARQ and Packet Scheduling work?
What are the differences between IR and Chase Combining?
How is Rate Matching performed with HS-DSCH?
How exactly works AMC (Adaptive Modulation and Coding)?
Under what circumstances are QPSK or 16QAM used?
What are the impacts of HSDPA in Iub & Iur User and Control Plane?
What adaptations are required on the UE and network side to provide for HSDPA?
What is the idea behind CQI reporting and why can the NodeB still pursuit a downlink BLER of about 20% reaching maximum throughput?
How is the user's mobility maintained in HSDPA?
How do Softhandover and HSDPA cell change go along?
Who should attend this class?
Everybody who needs to design HSDPA capable UEs and network equipment.
Operators who need a detailed understanding of HSDPA.
Test engineers who need to integrate HSDPA equipment and UEs.
Pre-Requisites
Training Course Target
The student will be enabled to understand all relevant details of HSDPA within the UTRAN and the User Equipment.
The student is enabled to develop, test and operate HSDPA hard- and software.
Training Course Duration
2 days or
3 days with practical exercises
v2.3

Search:
Advanced Search
---
More Info:
Detailed ToC of this training course
Schedule of this training course
Extract of this training course
Buy this book
Buy this book as eBook
---
INACON eBooks
Please have a look at our full offer

---