5G Update - 2021 & Beyond
Approx. 4.5 hours online video training, €199 (net) per participant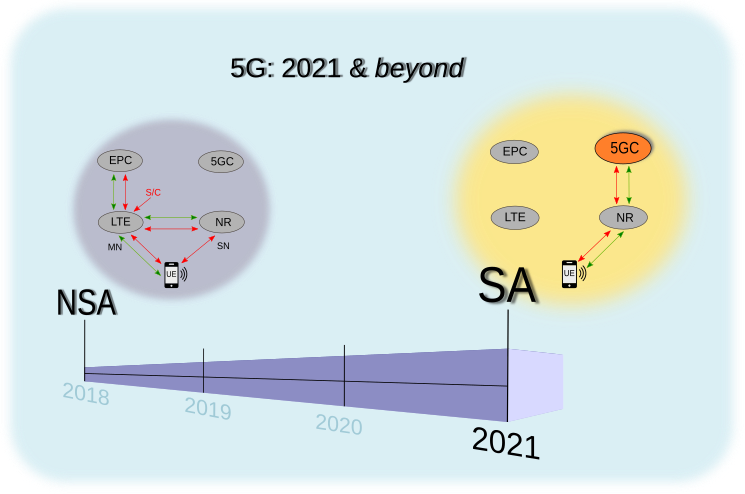 Detailed Table of Contents:
Technology (1h)


Definition: What is 5G (IMT-2020)?

For the first time: Evolution rather than Revolution
Beamforming centric
Deployment possible on mmWave Bands
First steps of 5G: step 1. NSA step 2. SA
With SA: Fully virtualized core network

Migration from 4G to 5G

Step 1: Non-Stand-Alone (NSA) with Option 3(x)
Step 2: Stand-Alone with Option 2
NSA <=> SA: Which Features are supported?

Key Technical Features of 5G

The Cloudified 5G Core Network (5GC)
mMIMO & Beamforming: Key Enablers of 5G
Flexible Subcarrier Spacing

The 5G Radio Access Network

---
Services and Evolution (0.75h)


List of 5G Service Enablers

Higher Throughput (what a surprise :-))
But watch out: 5G is not faster just because it is (4+1)G!
Focus on lower latency (target: < 1 ms e2e)
Beyond Cellular: 5G also contains FWA, Industry, IoT Car-2-X
Virtualization paves the way to entirely new service areas

Cartoon: 5G around the World
Network Slicing
Mobile Edge Computing
What about Voice in 5G?
What about IoT and mMTC?

---
What is the Position of 5G in June 2021? (0.5h)


Some Numbers

No. of Operators preparing for or already offering 5G Services
No. of announced / commercially available UEs
Types of 5G UEs currently available

Which Frequency Bands do these UEs support?
Situation in the US: Auction of Band n77
Some unpleasant Remarks & Concerns in the middle of 2021

---
Important Developments within the next Two Years (1.5h)


What to expect in the Years 2021 – 2023
5G Stand Alone: Option 2 vs Option 4
The mysterious 5G Core Network
Kubernetes and 5GC Cloud Operation
Unpredictable yet: The impact of ORAN
Campus Networks and their Implementation Options
5G over Satellite?

---
Technical Updates w/ R16 and R17 (Selection) (0.75h)


Technical Enhancements with 3GPP Release 16

NR-U
256-QAM for FR2
NR-Mobility
New Configurations for CA and DC
NR-Positioning
UE Power Saving Techniques
2-Step RACH Procedure

Technical Enhancements with 3GPP Release 17

New frequency ranges (NR beyond 52.6 GHz)
Sidelink enhancements
IAB enhancements
NR support over non-terrestrial networks
RedCap / NR-LIGHT

---
Please check out the demo video on YouTube.
v1.000