Bookstore
5G NSA: RAN & New Radio in first commercial networks
Some of your questions that will be answered by this book: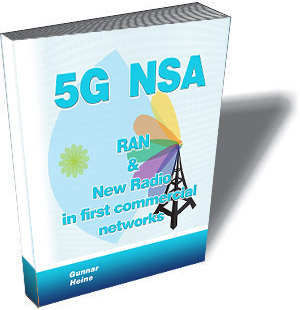 How precisely does option 3x operate and how does it differ from other options?
How does cell search work with 5G? How is it different between stand-alone and non-stand-alone?
Which bands 4G / 5G are combined with MR-DC in different parts of the world?
To which degree can beamforming mitigate the additional attenuation from operation in the 3.X GHz bands or even in millimeter wave bands?
How do active antennas look like and operate for 5G operation?
Which number of antenna ports provides the optimum performance under which conditions?
What is vertical beamforming and when does it make sense to deploy it?
Under which conditions can Inter-Modulation-Distortion (IMD) jeopardize NSA-operation and which options exist to mitigate these RF-related problems?
When will the UE display the 5G icon to the user?
What are the implications of deploying different subcarrier spacings with NR?
Which additional problems arise from TDD-operation in cellular vs FDD-operation?
What is the meaning of the GSCN and the SS-block pattern?
How can NR deploy beam-centric operation already in idle mode?
Why is there no more DC-subcarrier?
What are self-contained TTI and dynamic TTI?
Which reference signals does NR use and how is this different from 4G?
Which performance gain to expect from mMIMO with more than 8 antenna ports on the network side?
How does uplink beamforming operate?
What are the NR- and MR-DC - specific contents of a UE-Radio-Access-Capability Message?
How is a 5G cell added to an existing RRC-connection?
Product Details:
Paperback / eBook
199 Pages
over 70 Illustrations and Tables
Price Paperback: Euro 299.- (net)

Price eBook: Euro 249.- (net)


Download the order form and fax or e-mail it to us (inacon@inacon.de)


$product = 17; // include_once("../shop/lib/scripts/php/shop/basket_add.php"); ?>
Search:
Advanced Search
---
More Info:
General Infomation to this Book
Detailed ToC of this Book

---
INACON eBooks
Please have a look at our full offer

---