Bookstore
UMTS - Design Details & System Engineering
Some of your questions that will be answered by this book: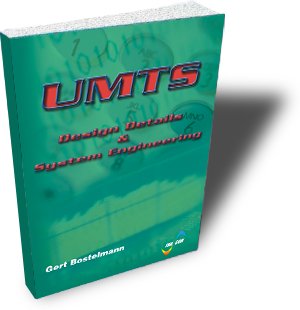 How are the initial parameters (e.g. access slot number) for network access be selected by the UE?
In which way is blind transport format detection performed?
What are the functions of the SSCOP protocol in the transport network protocol?
What is the meaning of the N_Max_frames parameter?
How are the dedicated and the common channels handled in the user plane on the Iub interface?
What parameters are added to the Authentication quintet, how is integrity protection performed?
What kind of different identifiers are used in CELL_FACH, CELL_PCH and URA_PCH for adressing?
How is an AMR speech connection established and reconfigured, how is the codec mode change controlled?
Who should acquire this book?
Everybody who needs to understand UMTS system details and operation procedures.
System designers and development engineers of UMTS network equipment and UMTS mobile stations.
Network Planners who need to establish UMTS and/or joined GSM / UMTS networks.
UMTS network operators for network design and planning, system installation, and/or system operation.
Software engineers engaged in signal processing flow and/or protocol stack software development.
Product Details:
Paperback / eBook
636 Pages
over 260 Illustrations and Tables
ISBN 978-3-936273-06-9

Price Paperback: Euro 399.- (net)

Price eBook: Euro 299.- (net)


Download the order form and fax or e-mail it to us (inacon@inacon.de)


$product = 41; // include_once("../shop/lib/scripts/php/shop/basket_add.php"); ?>
Search:
Advanced Search
---
More Info:
General Infomation to this Book
Detailed ToC of this Book
Download an Extract of this Book

---
INACON eBooks
Please have a look at our full offer

---