Bookstore
NB-IoT - Design Details & System Engineering
Some of your questions that will be answered by this book: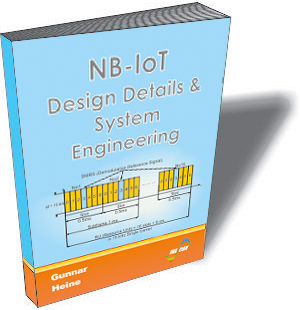 How can NB-IoT provide for the impressive coverage enhancements compared to legacy LTE?

Why are there 3 different uplink implementations in NB-IoT? Single-tone 3.75 kHz and 15 kHz and multi-tone 15 kHz?

On which bands does NB-IoT operate?

How does the OFDMA-grid look like with NB-IoT? Where are the NPDCCH etc. located?

Why does NB-IoT deploy so-called blind repetitions and what are the implications of using them in terms of throughput rate and latency?

What are typical battery life times of NB-IoT under different conditions? How to calculate them?

How can short messages be delivered to NB-IoT UE's without telephone number?

Which performance in terms of coverage and throughput rate does NB-IoT provide under different conditions?

Does NB-IoT use turbo coding and HARQ?

Which new channels does NB-IoT introduce and how do they differ from their wide band ancestors?

What are the differences between PSM and eDRX and how do both operate?

How does NB-IoT provide for downlink access to the UE? What are typical delay times?

To which degree can the operation of NB-IoT be controlled by the UE and by the operator?

Which new BCCH-messages does NB-IoT introduce and what is their content?
Product Details:
Paperback / eBook
226 Pages
over 100 Illustrations and Tables
Price Paperback: Euro 299.- (net)

Price eBook: Euro 249.- (net)


Download the order form and fax or e-mail it to us (inacon@inacon.de)


$product = 17; // include_once("../shop/lib/scripts/php/shop/basket_add.php"); ?>
Search:
Advanced Search
---
More Info:
General Infomation to this Book
Detailed ToC of this Book

---
INACON eBooks
Please have a look at our full offer

---