Bookstore
IPv6 Hands-On
Some of your questions that will be answered by this book: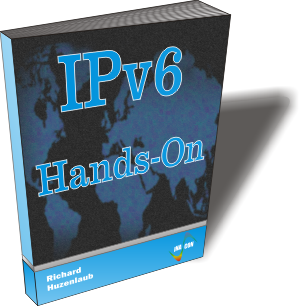 How does the IPv6 protocol header differ from IPv4?
Which elements are still used in IPv6 and what is the reason for changes in terminology?
What are Extension Headers, which information do they convey and how and when are these extensions being used in IPv6?
What is the structure of an IPv6 address and which parts are being used for public routing and how?
What are the changes in the support protocols such as ICMP and what happened to ARP in an IPv6 environment?
What is a Link-Local Address and how is that address obtained / generated?
What is the process and the purpose of Stateless Autoconfiguration and how does a terminal / application obtain an IP address in IPv6?
How do routing protocols such as RIP and OSPF operate and where are they used?
Which are the security mechanisms provided with IPv6 and how is IPSec used for authentication and ciphering?
How can Interworking with IPv4 and the migration from IPv4 be accomplished?
What is the difference of the various tunneling mechanisms, such as Teredo, 6to4 and others and where are they used?
What is Mobile IPv6, how does it operate and where is it used?
How and where is IPv6 being used in 3GPP networks such as UMTS and LTE / SAE?
Who should acquire this book?
Test engineers who need to understand IPv6-features and their implications in detail.

Designers of IPv6 network domains who require a deep inside view of the various enhancements.

Anyone who need to understand the IPv6 terminology, features, addressing and routing mechanisms and the applicability in future networks.
Product Details:
Paperback / ebook
290 Pages
over 106 Illustrations and Tables
ISBN 978-3-936273-80-9

Price Paperback: Euro 249.- (net)

Price eBook: Euro 199.- (net)


Download the order form and fax or e-mail it to us (inacon@inacon.de)


$product = 3; // include_once("../shop/lib/scripts/php/shop/basket_add.php"); ?>
Search:
Advanced Search
---
More Info:
General Infomation to this Book
Detailed ToC of this Book

---
INACON eBooks
Please have a look at our full offer

---