Bookstore
HSUPA - Design Details & System Engineering
Some of your questions that will be answered by this book: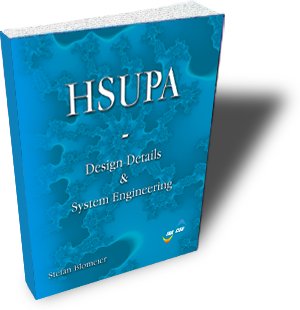 What are the motivation and drivers for HSUPA?
Supported data rates with HSUPA?
What are the key concepts of HSUPA?
What impact does HSUPA have on the system architecture?
What is the purpose of E-DCH (Enhanced DCH) and E-TFC?
Is there a new modulation scheme coming with HSUPA?
What are the advantages for the subscriber using HSUPA capable UE's?
How are HARQ and Fast Packet Scheduling done?
What are the differences and pros/cons between HARQ II and HARQ III?
What are the impacts of HSUPA in Iub & Iur User and Control Plane?
What adaptations are required on the UE and network side to provide for HSUPA?
How does the F-DPCH benefit UTRAN?
What is the purpose of Primary and Secondary E-RNTI?
Why are Absolute and Relative Grants used to control UE's uplink E-DPDCH Power?
What are the differences between E-DCH Serving RLS and E-DCH Non-Serving RLS?
When are scheduled and when are non-scheduled Grants issued?
Who should acquire this book?
Everybody who needs to design HSUPA capable UEs and network equipment
Operators who need a detailed understanding of HSUPA
Test engineers who need to integrate HSUPA equipment and UEs
Product Details:
Paperback / eBook
280 Pages
over 100 Illustrations and Tables
ISBN 978-3-936273-20-5

Price Paperback: Euro 299.- (net)

Price eBook: Euro 249.- (net)


Download the order form and fax or e-mail it to us (inacon@inacon.de)


$product = 21; // include_once("../shop/lib/scripts/php/shop/basket_add.php"); ?>
Search:
Advanced Search
---
More Info:
General Infomation to this Book
Detailed ToC of this Book
Download an Extract of this Book
Also available as eBook
---
INACON eBooks
Please have a look at our full offer

---