Bookstore
LTE-A to LTE-C Design Details & System Engineering
Some of your questions that will be answered by this book: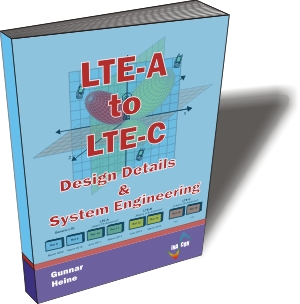 Which carrier aggregation scenarios have been defined in Rel 10, 11 and 12?
Will SRVCC in the direction from LTE to 2G / 3G become applicable and how does this compare to CSFB?
How do remote radio heads (RRH) compare to WiFi-hotspots?
What is the basic difference between WiFi offloading with IFOM and SIPTO?
What is an EPDCCH and how does it operate?
How does CoMP operate in downlink and uplink direction and which advantages does it yield for HetNet operation?
Which new features will be coming with Rel 12 like for instance D2D or MTC?
Which new transmission modes are introduced with LTE-Advanced and which new options do they offer for the new MIMO-modes?
What is the relationship between SRVCC and IMS Service Centralization and Continuity (SCC)?
Do we need to prepare for ZUC as new stream cipher?
How does the UE convey its carrier aggregation related capabilities to the network?
Which new procedures does feICIC yield compared to previous versions of this feature packet?
Why is there a new PUCCH-format 3 and what does it offer compared to previously defined PUCCH-formats?
Who should acquire this book?
The book is targeted at engineers and technicians who are involved in the design, integration and test of of LTE-Advanced equipment.
Product Details:
Paperback
340 Pages
over 125 Illustrations and Tables
ISBN 978-3-936273-75-5

Price Paperback: Euro 399.- (net)

Price eBook: Euro 299.- (net)


Download the order form and fax or e-mail it to us (inacon@inacon.de)


$product = 3; // include_once("../shop/lib/scripts/php/shop/basket_add.php"); ?>
Search:
Advanced Search
---
More Info:
General Infomation to this Book
Detailed ToC of this Book
Schedule of this training course

---
INACON eBooks
Please have a look at our full offer

---