Bookstore
AMR in GSM - Operation, Procedures & Testing
Some of your questions that will be answered by this book: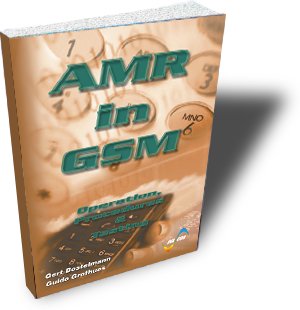 How can I optimize the usage of the GSM Air-Interface capacity without degrading the speech quality?
What is the meaning of the various new parameters, logical channels and counters like: ACS, CMI, CMR, CMC, RATSCCH, convolutional coding, puncturing... ?
What is the meaning of the various new messages that have been defined for AMR?
How can I decode hexadecimal AMR inband signaling messages?
What is the impact of AMR introduction for TRAU, BTS and mobile station.
What are the effect of TFO, DTX, Handover,… on AMR?
How and where can we test AMR in the GSM-Network and mobile station?
Depends the function of AMR on the speaker's language?
Who should acquire this book?
Design engineers who shall develop AMR for the BSS or for the mobile station.
Test engineers who need a thorough understanding of AMR-signaling procedures (inband and outband)
Network operators who require a detailed understanding of the technical realization and implications of AMR.
Product Details:
Paperback
274 Pages
over 110 Illustrations and Tables
ISBN 978-3-936273-07-6

Price Paperback: Euro 299.- (net)

Price eBook: Euro 249.- (net)


Download the order form and fax or e-mail it to us (inacon@inacon.de)


$product = 2; // include_once("../shop/lib/scripts/php/shop/basket_add.php"); ?>
Search:
Advanced Search
---
More Info:
General Infomation to this Book
Detailed ToC of this Book
Download an Extract of this Book

---
INACON eBooks
Please have a look at our full offer

---