Bookstore
LTE-M / Cat-M1/M2 - Design Details & System Engineering
Some of your questions that will be answered by this book: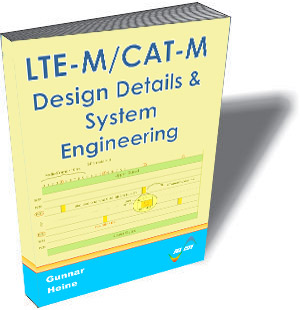 What are the differences between CE-level and CE-mode?

How can blind retransmissions improve the overall system performance?

How does the Cat-M UE find and read the BL-specific system information?

How does the random access procedure work in LTE-M?

How does a cell allocate resources in Cat-M? How does the MPDCCH operate?

How does HARQ operate in LTE-M?

What are achievable throughput rates in Cat-M in both directions?

How does DRX operate for LTE-M?

Which impact on DRX does eDRX have w.r.t. LTE-M?

How do attachment and bearer setup work for LTE-M?

How does PSM operate and how does it correlate with eDRX?

How do CIoT-optimizations operate?
Product Details:
Paperback / eBook
145 Pages
over 60 Illustrations and Tables
Price Paperback: Euro 249.- (net)

Price eBook: Euro 199.- (net)


Download the order form and fax or e-mail it to us (inacon@inacon.de)


$product = 17; // include_once("../shop/lib/scripts/php/shop/basket_add.php"); ?>
Search:
Advanced Search
---
More Info:
General Infomation to this Book
Detailed ToC of this Book

---
INACON eBooks
Please have a look at our full offer

---